Italy
Crédit Agricole CIB in Italy offers comprehensive services, ranging from financing to hedging, investment products and advisory, to large Italian companies, financial institutions and public sector entities. Crédit Agricole CIB works closely with other Crédit Agricole companies, in particular with Cariparma and Friuladria, the Italian retail banks of the Group.
Crédit Agricole CIB's strenghts
Crédit Agricole CIB in Italy is particularly strong on structured finance and fixed income. Its solid and well-recognised Milan-based teams are close to the clients. The teams provide the foundation for establishing long term relationships, far from the "hit and run" approach of some other banks. They work as part of global product lines, which guarantees access to state of the art solutions and international reach. Crédit Agricole CIB in Milan is big enough to handle large, complex transactions, but small enough to facilitate product integration and to remain creative and flexible. 
History and organisation 
Crédit Agricole CIB has been present in Italy for more than 40 years. The Bank operates in Milan as a branch of Crédit Agricole CIB. 
A team of Senior Bankers handles client relationships and coordinates product delivery together with the local product line teams. The product platform is backed by strong risk, legal, compliance, tax and accounting teams that create a safe and sound environment.
International business solutions
Located in Milan, the Crédit Agricole Group International Business Solutions "Italy" assists Crédit Agricole's mid-cap corporate customers with their international operations, by providing expertise on the local environment as well as by securing access to a wide spectrum of banking services abroad.
Contact:
Crédit Agricole Group International Business Solutions in Italy,
Via Armorari 4
20123 MILAN
Contact
Internal communication
Email : comunicazioneinterna@ca-cib.com
Crédit Agricole CIB - Milan
Crédit Agricole CIB - Milan
Piazza Cavour, 2
20121, MILAN
Our presence in this country
» Crédit Agricole CIB - Milan
Piazza Cavour, 2
20121, MILAN
T : + 39 02 72 3031
F : + 39 02 72 30 3203
The word of the SCO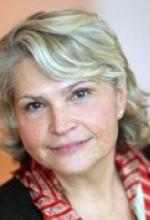 "Italy is the second domestic market of Crédit Agricole. All product lines of the Group are active in the country, often with leading positions. We do have critical mass, and are definitely among the top players."


Ivana Bonnet, Senior Country Officer
Key figures
1 location 40 years of expertise