China
Crédit Agricole CIB China offers a wide range of global market products as well as corporate banking, structured finance as well as asset-based banking services to large Chinese corporates, financial institutions (including large banks and insurance companies) and multinational companies.

Besides, Crédit Agricole CIB works closely with other Crédit Agricole group companies in sectors such as aircraft leasing, automobile consumer financing and asset management.
Crédit Agricole CIB's Strengths
Crédit Agricole CIB China has an extended experience in arranging and structuring banking transactions in China. The bank is very active in corporate banking and debt capital markets (on and off-shore ST /MT financing as well as arranging bonds issuances) and was among the first foreign banks to be licensed for Chinese currency (RMB) operations.
Considered as one of the top foreign debt financing institutions in the country, Crédit Agricole CIB China has brought to its clients the expertise of the Group mainly in the areas of Export Finance, Trade & Commodity Finance, Project Finance & Advisory,  Aviation & Shipping finance, Debt Capital Market (USD, Euro, CNH), Foreign Exchange (Euro/RMB) as well as Loan Syndication.
History and organisation
Building on over a century of presence, Crédit Agricole CIB (China) ltd is locally incorporated since 2009, headquartered in Shanghai and operates through 5 branches in Beijing, Guangzhou, Tianjin, Xiamen. It benefits from the presence of a representative office in Shenzhen.
Internation Business Solutions
Located in Shanghai, the Crédit Agricole Group International Business Solutions "China" assists Crédit Agricole's mid-cap corporate customers with their international operations, by providing expertise on the local environment as well as by securing access to a wide spectrum of banking services abroad.
Contact in China:
Crédit Agricole Group International Business Solutions in Shanghai
12F, Office Tower 2, Plaza 66, N°1266 Nan Jing Xi Road,
Jing An District, Shanghai 200040, China
Click here for more information
Contacts 
Inquiry and Complaint
开户咨询投诉电话: 021-38566847
Phone number for account opening inquiry and complaint: 021-38566847
Regulatory Documents
Crédit Agricole CIB (China) Limited - Shanghai Branch
Unit 1001, 1002 ,1012,1013,10th Floor, Office Tower 2,
Plaza 66, 1266 West Nanjing Road, Jingan District,
Shanghai 200040, China
Crédit Agricole CIB (China) Limited - Shanghai Branch
Unit 1001, 1002 ,1012,1013,10th Floor, Office Tower 2,
Plaza 66, 1266 West Nanjing Road, Jingan District,
Shanghai 200040, China
Crédit Agricole CIB (China) Limited - Xiamen Branch
Crédit Agricole CIB (China) Limited - Tianjin Branch
Crédit Agricole CIB - Shenzhen Representative Office
Crédit Agricole CIB (China) Limited
12th Floor, Office Tower 2, Plaza 66,
No. 1266 West Nanjing Road, Jingan District,
Shanghai 200040, China
Crédit Agricole CIB (China) Limited - Guangzhou Branch
GAC-SOFINCO Automobile Finance Co. LTD - Guangzhou
Dragon Aviation Leasing Company Limited Beijing
Crédit Agricole CIB (China) Limited - Xiamen Branch
Suite 2115, Bank Center
189 Xiahe Road
Fujian Province
361003, XIAMEN
Crédit Agricole CIB (China) Limited - Tianjin Branch
Suite 710, Tianjin International Building, 75 Nanjing Road
300050, TIANJIN
Crédit Agricole CIB - Shenzhen Representative Office
Room 617, Block A
Galaxy Century Building
3069 Caitian Road, Futian District
518026, SHENZHEN
Crédit Agricole CIB (China) Limited
12th Floor, Office Tower 2, Plaza 66,
No. 1266 West Nanjing Road, Jingan District,
Shanghai 200040, China
Crédit Agricole CIB (China) Limited - Guangzhou Branch
Unit 603, 6th Floor of Office Tower 1 of the Taikoo Hui Development
No. 385 Tianhe Road
510620, GUANGZHOU
GAC-SOFINCO Automobile Co. LTD - Guangzhou
17/F, Sunrich Plaza, 988-990 Guangzhou Da Dao Zhong, Tianhe District
510620, GUANGZHOU
Dragon Aviation Leasing Company Limited - Beijing
10/F, Silver Tower, No. 2 North Road, Dong San Huan, Chaoyang District
100027, BEIJING
ABC-CA Fund Management Co., Ltd - Shanghai
Crédit Agricole CIB (China) Limited - Beijing Branch
ABC-CA Fund Management Co., Ltd - Shanghai
7/F, Lujiazui Business Plaza,1600 Century Road
Pudong New District
200122 , SHANGHAI
Crédit Agricole CIB (China) Limited - Beijing Branch
19/F, Unit 1901, Fortune Financial Center
No.5 Dongsanhuan Zhong Road
Chaoyang District
100020, BEIJING
Our Presence in this market
» Crédit Agricole CIB (China) Limited
12th Floor, Office Tower 2, Plaza 66,
No. 1266 West Nanjing Road, Jingan District,
Shanghai 200040, China
Tel: + 86 21 3856 6888
Fax: +86 21 3856 6922/23

» Crédit Agricole CIB (China) Limited - Shanghai Branch
Unit 1001, 1002 ,1012,1013,10th Floor, Office Tower 2,
Plaza 66, 1266 West Nanjing Road, Jingan District,
Shanghai 200040, China
Tel: + 86 21 3856 6888
Fax: + 86 21 3856 6922/23

» Crédit Agricole CIB (China) Limited - Beijing Branch
19/F, Unit 1901,1902-01, 1908-2, Fortune Financial Center,
No.5 Dongsanhuan Zhong Road, Chaoyang District
Beijing 100020, China
Tel: +86 10 5651 4000
Fax: +86 10 5651 4001

» Crédit Agricole CIB (China) Limited - Guangzhou Branch
Unit 603, 6th Floor of Office Tower 1 of the Taikoo Hui Development
No. 385 Tianhe Road
Guangzhou 510620, China
Tel: + 86 20 3810 9620
Fax: + 86 20 3810 9520

» Crédit Agricole CIB (China) Limited - Tianjin Branch
Suite 710, Tianjin International Building,
75 Nanjing Road, Heping District
Tianjin 300050, China
Tel: + 86 22 5995 5258
Fax: + 86 22 5995 5259

» Crédit Agricole CIB (China) Limited - Xiamen Branch
Suite 05AB, 18th Floor, Tower A, China Resources Building,
No. 93 Hubin East Road, Siming District
Xiamen 361004, Fujian, China
Tel: + 86 592 239 6168
Fax: + 86 592 239 6169

» Crédit Agricole CIB - Shenzhen Representative Office
Room 617, Block A, Galaxy Century Building
No.3069 Caitian Road, Futian District
Shenzhen 518026, China
Tel: + 86 755 8302 7621
Fax: + 86 755 8302 7707

» Dragon Aviation Leasing Company Limited - Beijing
10/F, Silver Tower, No. 2 North Road, Dong San Huan, Chaoyang District
Beijing 100027, China
Tel: +86 10 6410 7210
Fax: +86 10 6410 7212

» GAC-SOFINCO Automobile Co. LTD - Guangzhou
17/F, Sunrich Plaza, 988-990 Guangzhou Da Dao Zhong, Tianhe District
Guangzhou 510620, China
Tel: + 86 20 8518 1818
Fax: + 86 20 3809 2027

» ABC-CA Fund Management Co., Ltd - Shanghai
7/F, Lujiazui Business Plaza,1600 Century Road
Pudong New District
Shanghai 200122, China
Tel: +86 21 6109 5588
Fax: +86 21 6109 5556
THE WORD OF THE SCO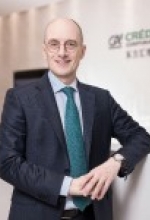 "Since 1898, the Bank's Chinese name 东方汇理银行* has embodied our franchise in China, which has become a significant growth engine for Crédit Agricole CIB. Every day, our teams fulfill their commitment to offer a wide range of financing products and capital markets solutions to our clients in China. We serve at our best to support the internationalisation of Chinese corporates and financial institutions, accompany multinationals locally and expand our leadership in sustainable banking."
Nicolas Vix, Senior Country Officer
*东方汇理银行: The Oriental Bank
Key Figures
6 locations since 1898