Germany
Crédit Agricole CIB is one of the major foreign banks in Germany. It provides financial services to large German and Austrian corporations, financial institutions and institutional investors. The bankers manage the client relationships on a global basis, benefiting from the strong support of product lines and the international network.
Crédit Agricole CIB's strengths 
Crédit Agricole CIB in Germany offers traditional financing products as well as complex structured financial solutions tailored to the specific requirements of the clients. 
A local fixed income platform serves institutional investors and issuers in Germany and Austria with the whole set-up of risk management and capital markets products. Over the last years Crédit Agricole CIB in Germany has stepped up and achieved top league table positions in Corporate, Covered and Investment Grade Bonds.
The Bank is also recognised for its structured finance expertise in export and trade finance, project leverage finance, rail and shipping finance. 
History and organisation 
Crédit Agricole CIB has been present in Germany since 1948 through its predecessor institutions. Today its offices are located in Frankfurt and Hamburg (ship finance activities). 
Crédit Agricole CIB is one of Crédit Agricole Group several entities present in Germany. The Group activities in Germany comprise – besides the corporate & investment banking – asset management, asset servicing, factoring, consumer finance, car finance and leasing as well as payment protection insurance. There is a strong co-operation between the regional Crédit Agricole Group entities and a combined structuring of transactions is a winning factor for the clients.
International business solutions
Located in Frankfurt, the Crédit Agricole Group International Business Solutions "Germany and Switzerland" assists Crédit Agricole's mid-cap corporate customers with their international operations, by providing expertise on the local environment as well as by securing access to a wide spectrum of banking services abroad.
Crédit Agricole Group International Business Solutions in Germany and Switzerland
Brüsseler Straße 1-3
6032 FRANKFURT AM MAIN
Click here for more information
Contacts 
Head of Group Communication Germany
Güray KRUTINAT, gueray.krutinat@ca-cib.com
Human Resources - Recruitment
recruitment-frankfurt@ca-cib.com
Crédit Agricole CIB - Hamburg
Crédit Agricole CIB - Frankfurt
Taunusanlage 14
60325, FRANKFURT AM MAIN
Crédit Agricole CIB - Hambourg
Neuer Wall 46
20354, HAMBOURG
Crédit Agricole CIB - Francfort
Taunusanlage 14
60325, FRANKFURT AM MAIN
Our presence in this country
» Crédit Agricole CIB - Frankfurt
Brüsseler Straße 1-3
60327, FRANKFURT AM MAIN
T: + 49 6974 2210
F: + 49 6974 221198
» Crédit Agricole CIB - Hamburg
Neuer Wall 46
20354, HAMBURG
T: +49 6974 2210
F: +49 40 7038 3854
The word of the SCO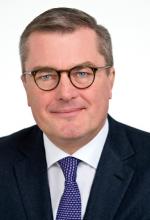 "Germany and Austria are since decades key markets for Crédit Agricole. Even in a volatile economic environment we always supported our clients in a reliable and long-term oriented manner. Based on this understanding we see further growth potential as our clients need a global debt house like us to stem their own ambitious projects."

Frank Schönherr, Senior Country Officer
Germany and Austria
Key figures
2 locations since 1948