Mexico
Crédit Agricole CIB in Mexico delivers a complete range of financial services and products in order to fulfill our clients' needs. Our clients are primarily Mexican governmental entities, Crédit Agricole CIB global multinational clients, Mexican corporates and financial institutions.
Crédit Agricole CIB's strengths 
Crédit Agricole CIB  in Mexico's major strengths are:
member of Crédit Agricole group, one of the ten largest worldwide financial institutions,
excellent business relationships with Mexican corporates, financial and governmental institutions,
a comprehensive commercial and investment banking product platform led by our Structured Finance, Fixed Income Markets and Equity Capital Markets divisions, with global delivery capabilities through our presence in more than 30 countries,
in line with the Group's sustainable development policy, Crédit Agricole CIB in Mexico is committed to following the Equator Principles. The Bank has adopted methodologies to take into account and prevent undesirable social and environmental impacts.
History and organisation 
Crédit Agricole group and Crédit Agricole CIB's presence in Mexico dates back to 1963. Crédit Agricole CIB's Mexico representative office operates with:
the product knowledge and transactional expertise of our internaitonal investment banking business,
execution capabilities commensurate with our investment appetite and market making activities,
the ability to manage complex transactions and the related information requirements in a global regulatory context,
the highest standard of service delivery supervision.
International business solutions
Located in Brazil, the Crédit Agricole Group International Business Solutions Latin America assists Crédit Agricole's mid-cap corporate customers with their international operations, by providing expertise on the local environment as well as by securing access to a wide spectrum of banking services abroad.
Contact:
Crédit Agricole Group International Business Solutions in Latin America
Alemada IUT, 852
16 Andar, Cerqueira Cesar,
CEP 01421-001, SAO PAULO
Click here for more information 
Contacts 
Octavio Lievano, Chief Representative Officer
Sandra Leira, Office Manager
For further information, please contact: Communications-Americas@ca-cib.com
Crédit Agricole CIB - Mexico
Crédit Agricole CIB - Mexico
Ruben Dario 281, Piso 21
Colonia Bosques de Chapultepec
11580, MEXICO D.F.
Our presence in this country
» Crédit Agricole CIB - Mexico
Ruben Dario 281, Piso 21
11580, MEXICO D.F.
T : + 52 55 9138 1381
F : + 52 55 5280 9720
The word of the Chief Representative Officer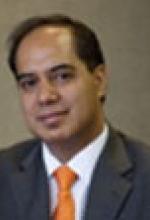 "Crédit Agricole CIB is committed to providing high value added services to our Mexican and Multinational clients across our areas of core expertise. Our teams have led some of the largest and most innovative financial transactions in Mexico."

Octavio Lievano, Chief Representative Officer
Key figures
1 location 10 Full-time employees