Colombia
Crédit Agricole CIB is present in Colombia through a Representative Office located in Bogota. This office is supported by experienced teams all around the Americas. Enabling us to strengthen and expand our relationships with local and international clients operating in this country.
CRÉDIT AGRICOLE CIB'S Strengths
The local team, led by Juan Carlos Alvarez, Chief Representative Officer for Crédit Agricole CIB Colombia, has a deep knowledge of his local market and helps us to provide our expertise and a broad range of products and services. In addition this office permits us to grow our American network by supporting the regional headquarters in New York City.   
History and Organisation
We opened a Representative Office in 2018.
International business solutions
Located in Brazil, the Crédit Agricole Group International Business Solutions Latin America assists Crédit Agricole's mid-cap corporate customers with their international operations, by providing expertise on the local environment as well as by securing access to a wide spectrum of banking services abroad.
Contact:
Crédit Agricole Group International Business Solutions in Latin America
Alemada IUT, 852
16 Andar, Cerqueira Cesar,
CEP 01421-001, SAO PAULO
Click here for more information
Contacts
Juan Carlos Alvarez, Chief Representative Officer for Colombia
Liliana Barreto Borda, Office Manager
For further information, please contact: Communications-Americas@ca-cib.com
OUR PRESENCE IN THIS COUNTRY
» Crédit Agricole CIB - Bogota
Edificio Tierra Firme,
Carrera 9 No. 115 – 06/30, Suite 901,
Ciudad de Bogota,
Colombia
THE WORD OF THE Chief Representative Officer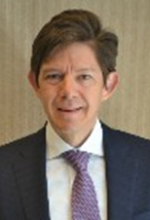 "Crédit Agricole CIB has a strong presence in the Americas, and in Latin America emerging economies like Colombia, our team continues to offers our clients their expertise in the local market in order to provide high value added services."
Juan Carlos Alvarez, Chief Representative Officer