Crédit Agricole CIB's 1st financing for Tikehau Capital in the UK for a building acquisition & related £35.6m loan facility
Tikehau Capital, one of our Bank's strategic clients, together with Best Star Real Estate Fedaia, completed the acquisition and related £35.6m four-year bilateral loan facility, of 83-85 Pall Mall.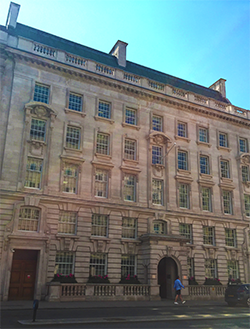 Global alternative asset management group Tikehau Capital and Best Star Real Estate Fedaia ("BSREF") plan to upgrade 83-85 Pall Mall into a grade A / energy efficient office building, targeting market leading green certifications, to cater to occupiers looking for quality space in one of the most sought-after London's office submarkets.
The companies will also refurbish the Grade II listed office building with an extensive capex programme over a 12-month period during 2021/2022 to then capitalise on rental premiums being witnessed locally due to the lack of high-quality office premises in the area.
Crédit Agricole CIB supported Tikehau Capital and BSREF as Mandated Lead Arranger, Facility Agent, Security Trustee and Hedge Counterparty in this transaction – the first financing in the UK for this strategic client of our Bank.
"We are very pleased to further develop the global relationship with this financing in the UK for this Strategic client of the Bank. This provides an excellent opportunity to assist Tikehau Capital and BSREF with the acquisition and repositioning of this interesting speculative office building in one of London's most sought after locations, at a very acceptable leverage." commented Neal Ledger, Head of UK Real Estate & Hotel Group.