Qatar
In April 2020, Crédit Agricole CIB obtained from the Qatar Financial Center Regulatory Authority the banking license for operating in Qatar and carrying out the following activities: arranging credit facilities, arranging deals in investment and advising on investment.
Crédit Agricole CIB's strengths
Crédit Agricole CIB's strategy in Qatar is focused on leveraging the Bank's areas of expertise to build further long term relationships with Strategic and Prime clients: 
Advising the largest local corporates and financial institutions in Qatar (government-related entities and key actors of the country transformation) on their outbound business and international expansion plans. Crédit Agricole CIB has been doing business with these clients for years with product teams based around the world.
Bringing local knowledge to non-Qatari multinational priority clients from the Crédit Agricole CIB international network to help them develop their inbound business in Qatar and to continue accompany them in the key countries where they do business.
The Qatar Financial Center (QFC) set up allows Crédit Agricole CIB to offer and distribute its global services, products and solutions including Capital Markets, Structured Finance, Islamic Banking, Sustainable Banking, Corporate Banking, Treasury, Strategic Equity, M&A, Advisory and Acquisition Finance.
International business solutions 
Located in Paris, the Crédit Agricole Group International Business Solutions Middle-East assists Crédit Agricole's mid-cap corporate customers with their international operations, by providing expertise on the local environment as well as by securing access to a wide spectrum of banking services abroad.
Contact:
Crédit Agricole Group International Business Solutions in Middle-East,
12, place des Etats-Unis, 92120 Montrouge, France
 
Click here for more information
Contact
Thierry Simon, Senior Regional Officer for Middle East & Africa
Jérôme Perrier, Senior Country Officer
For further information, please contact: cacibqfc@ca-cib.com 
Useful Documents
Crédit Agricole CIB - Qatar
» Crédit Agricole CIB – QFC Branch
Alfardan Office Towers, 9th Floor, Office No. 922, Dafna, West Bay,
31316 Doha
Qatar
Crédit Agricole CIB - Qatar
» Crédit Agricole CIB – QFC Branch
Alfardan Office Towers, 9th Floor, Office No. 922, Dafna, West Bay,
31316 Doha
Qatar
The word of the SRO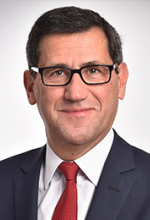 "Crédit Agricole CIB – QFC is an important commitment by the Crédit Agricole Group to Qatar and to our existing core clients. It is a strategic addition which will contribute to the development of the Region and of our international network."

Thierry Simon, Senior Regional Officer for the Middle-East & Africa
The word of the SCO
"Our presence in the QFC is an opportunity to formally establish locally our client-centric strategy to deepen existing relationships and build additional connections on the ground to better serve our clients: financial institutions, large corporates and multinational companies."

Jérôme Perrier, Senior Country Officer