What is responsible finance?
Discover how we place responsible finance at the centre of our activities.
Crédit Agricole CIB puts responsible finance at the centre of its activities. It takes extended account of the environmental and social impacts stemming from its financing and continuously seeks to adapt its offering to new social challenges.
Responsible finance means taking into account three key sustainable development issues
Crédit Agricole CIB aims to limit its environmental and social footprint by taking account three key sustainable development issues: 
Crédit Agricole CIB has made strong commitments to financing the energy transition with ambitious financing objectives in favour of the climate. The Bank structured €114 billion in new financing for the energy transition between 2016 and 2018, exceeding the goal it announced at the COP23 conference. 
For several years, we have been working to better understand and manage climate risks, for example by estimating the carbon footprint of our financing and investment activities, publishing sector-based policies and developing a methodology for assessing loan-related climate risks.
Crédit Agricole CIB expects its clients to conduct their business in accordance with the principles of the Convention on Biological Diversity and applies exclusions, refraining from financing projects or business activities with a critical impact on natural areas with strong biodiversity value. These principles are rounded out by a special policy on water.
The Crédit Agricole Group's Charter of Human Rights, published in 2009, reasserts the Group's commitment regarding both its employees and sphere of influence.
 
Responsible finance means applying CSR policies in the most sensitive sectors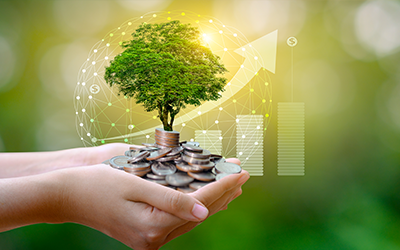 To limit the impact of our financing and investment activities, we have drawn up CSR policies for the business sectors the most affected by environmental and social issues: energy, transport, construction, agriculture & forestry.
The principles and rules set out in these policies apply to all our financing activities and all our investments. A reference framework has been drawn up for each sector covered identifying the relevant standards that allow us to measure our clients' environmental and social practices against best practice in their sector of activity.
These policies set criteria to be taken into account when analysing transactions and the principles applied to exclude projects and transactions the Bank does not wish to be involved in. 
Responsible finance means proposing products with a positive impact
To help our clients incorporate social and environmental considerations into their decisions, our teams are developing sustainable financing solutions: 
Green private placements are structured in line with the Green Bond Principles. They give responsible investors the opportunity to receive financial returns while diversifying their investments in support of the environment, for example the Green Euro PP issued by Quadran in 2017. 
 
Responsible finance means finding sustainable and innovative financing solutions

Renewable energy: The Bank first committed to this sector in 1997 when it financed its first wind farms, then in 2008 when it financed a solar power project in Spain. To date, we have financed over 24,000 MW in wind power and 9,000 MW in solar power. In terms of the number of deals, renewable energy accounted for 64% of electricity power production financing activities in 2018.
 
Smart cities: In 2018, we structured the first 100% green medium-term negotiable debt programme for Societe du Grand Paris to finance Europe's biggest urban infrastructure project – the Grand Paris Express, the city's new automatic metro network.
 

Transport: The transport sector accounts for a quarter of greenhouse gas emissions in Europe and is the main cause of air pollution in towns and cities. It is essential to foster low-carbon means of transport such as railways and other public transport. Crédit Agricole CIB has unique experience in the railway sector. 
 

Sustainable real estate: Our clients in the real estate sector have committed to sustainable growth by reducing their carbon emissions. In this sector, our role is to structure and place green bonds to finance energy-efficient buildings or passive solar buildings.  
 

Controlling energy use: Smart gas and electricity meters are a new asset class created with the EU 2009 Energy Efficiency Directive, which requires that 80% of European consumers have smart meters by 2022. The main aim of this regulation is to encourage energy efficiency by providing real time data and allowing more accurate billing. With three flagship deals completed since 2015, Crédit Agricole CIB is playing a leading role in helping its clients finance this new asset class.
Responsible finance means supporting initiatives in sectors undergoing change and forming partnerships  
Crédit Agricole group and Crédit Agricole CIB are members, co-founders, signatories and participants in the following initiatives: