Crédit Agricole CIB recognised for promoting women's leadership in Asia
Crédit Agricole CIB is delighted to be once again recognised by Asiamoney magazine, a leading financial trade media in Asia, for its commitment to supporting women in their career progression.
To conduct its Leaders for Women survey, Asiamoney collected data from nearly 70 banks across the region and, among international banks, Crédit Agricole CIB ranked as follows:
No.1 for women Vice-President
In the top 10 for women in the workforce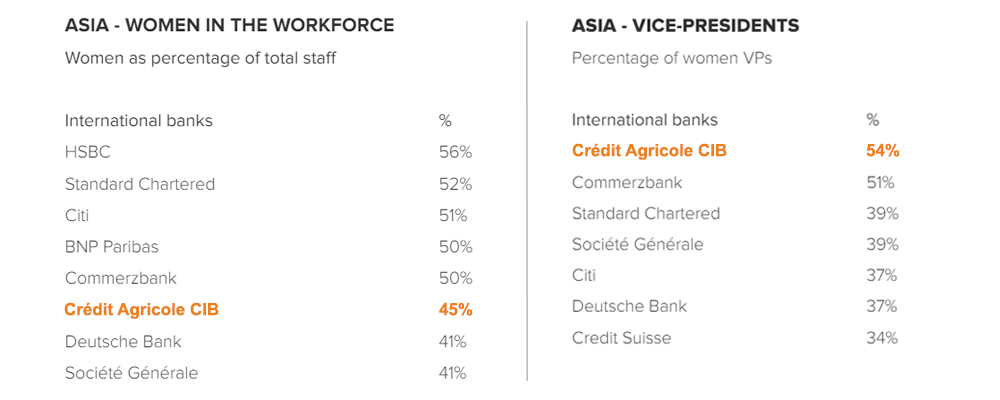 Crédit Agricole CIB's Human Project holds on a strong conviction: the diversity of its employees as a major asset for the Bank. The Bank strives to embrace diversity as a performance and innovation factor and it is essential to reflect the diversity of its clients. With 15 business lines operating in more than 30 countries, the Bank has employees coming from 100 nationalities and a female workforce comprising more than 43.5% of the total staff.
By promoting an inclusive model, encouraging a healthy work-life balance and fostering women empowerment, Crédit Agricole CIB aims to facilitate female staff career progression across all functions within the Bank.
Among the actions aimed at promoting the principles of professional equality and non-discrimination, Crédit Agricole CIB:
monitors staff distribution indicators and reviews the strategic talent pool and succession plans with a particular focus on diversity criteria;
provides mentoring and leadership development opportunities and adapts them to a digital and remote format;
conducts parenting initiatives and implements family support arrangements, and
raises employees' awareness through the Diversity Month initiative and the six volunteer-led diversity networks in Asian markets – namely Hong Kong, India, Japan, Singapore, South Korea and Taiwan.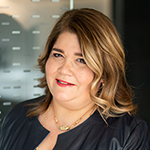 "These results reflect our commitment to promote diversity and inclusion within our teams. We are proud to rank among the industry leaders in empowering women's leadership in Asia."
Anne-Catherine Ropers, Global Head of Human Resources