Our commitments
Gender diversity, opportunities for disabled jobseekers, and respect for the environment. Crédit Agricole CIB is a committed and responsible employer.
Corporate Social Responsibility
FReD is the progress policy of the Crédit Agricole S.A. Group relative to its corporate social responsibility. Our continuous improvement approach is built on strong commitments and high standards, with actions plans established and progress indicators measured every year. All our employees are concerned by FReD because each one upholds our ambitions and those of the Group in CSR. 
Gender Diversity
Because we are convinced that gender diversity serves to boost performance and innovation, we have led an ambitious policy in this area for a number of years. In March 2017 we organised the fifth Diversity Week event, giving our employees around the world the chance to take part in a range of events such as conferences, workshops and lunches. Created on an initiative by women employees, gender diversity networks enable you to dialogue and share your experience at our business sites.
43% of our employees are women.
Disabilities
Long committed to a policy on the employment and integration of people with disabilities, we have introduced a range of measures to enable each individual to carry out their professional activities in the best possible conditions. This includes adapting work stations and providing bespoke training and coaching. We work all year round to raise the awareness of all our employees through special preventive health days, workshops, and Employment Week for People with Disabilities. We also regularly call on the adapted and sheltered sectors (for example, for printing work and recycling).
Quality of life at work
Because the well-being of our employees is a core part of our strategy, we:  
help employees to strike a work-life balance through teleworking, part-time work, workshops for staff returning from parental leave, etc.
bring staff varied and top-quality social advantages, such as social protection, employee savings schemes and a works council.
We also encourage our employees to participate and express themselves, through:    
a worldwide engagement survey aimed at identifying our strongths and areas for improvement,
programmes enabling employees to commit to charity organisations, including Solidaires, Téléthon de la Communauté Financière, and Oxfam Trailwalker.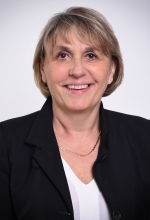 "The banking world's current context and Crédit Agricole CIB's positioning inspire us to manage talent more than ever."

Martine Boutinet, Head of Human Resources