Fight against corruption
Crédit Agricole CIB conducts its activities with ethics and in compliance with applicable laws, including the fight against corruption and influence peddling.
Our anti-corruption set-up is a cornerstone of our ethical and social commitment and is notably based on: 
a specific governance system for the fight against corruption;
the mapping of corruption risks;
an anti-corruption code of conduct;
a training and awareness-raising programme for all employees;
the strengthening of the protection mechanism for whistleblowers.
A RECOGNISED ANTI-CORRUPTION SET-UP
Supported by the most senior staff, the commitment of the Bank's management bodies led in July 2017 to the obtention ISO 37001 certification for its anti-corruption management system. It is the first French bank to comply with this international standard. This certification has been renewed in August 2019.
It certifies that corruption risks have been correctly identified and analysed, and that the programme adopted by Crédit Agricole CIB is designed in such a way as to limit these risks by implementing international best practice.
This certification demonstrates Crédit Agricole CIB's long-standing commitment to business ethics as a core component of its corporate social responsibility policy.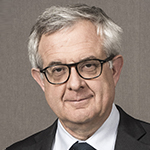 "This certification is the result of a long-standing determination and demonstrates the Group's commitment to put compliance and ethics at the heart of its development. With regards to the fight against corruption, the rules apply to everyone, including Crédit Agricole CIB Board members, management and employees, regardless of their position or function. 
To be compliant requires everyone's commitment, responsibility and support to guarantee the Group's integrity. This is in line with our policy of zero tolerance for any breach of professional ethics and any violation of laws and regulations."
Xavier Musca, Deputy Chief Executive Officer
A ZERO-TOLERANCE POLICY
The fight against corruption at CACIB is underpinned by a zero-tolerance policy and the implementation of effective measures.
 
The policy is part of the compliance and financial security programmes rolled out since 2004 with a view to:
ensuring transparency and loyalty towards customers;
contributing to the integrity of financial markets;
preventing reputational risk and the risks of criminal administrative and disciplinary penalties within its purview; and
fighting against money laundering and fraud.
An active policy on the prevention of corruption risks
Crédit Agricole CIB employees play a key role in the Bank's policy on the fight against corruption. They are duty bound to act in a loyal and responsible manner. They are regularly informed on anti-corruption issues through training courses on appropriate behaviour.
If an employee witness an attempted or actual act of corruption, they can notify their manager or the company in a confidential and completely secure manner through the whistleblowing system.