Our sustainable financing policy
Crédit Agricole CIB is resolutely focused on financing the real economy and supporting major projects that generate lasting momentum across all regions.
It features many commitments, which are in line with those of Crédit Agricole.

Two areas, project finance and green bonds, are of particular importance as potential action levers for banks and are suitable for greater analysis on their part. In these two areas Crédit Agricole CIB has strongly contributed to create standards of good practice with the Equator Principles and the Green Bonds Principles.
In other areas where it is more difficult to standardise practice, Crédit Agricole CIB has adopted CSR sector policies that detail the environmental and social criteria used by the Bank.
The equator principles
When the Equator Principles were launched in 2003, Crédit Agricole CIB became the first French bank to sign them. In a few short years, the Equator Principles have become the benchmark for responsibility in project finance.
The Equator Principles represent a voluntary, unilateral commitment to perform a detailed analysis of environmental and social aspects of each new project financing and to link financings to compliance with a number of requirements. Consequently, we develop and run our projects in compliance with the social and environmental standards of the International Finance Corporation (IFC).
OUR EXPERTISE IN THE FIELD OF GREEN BONDS
Green Bonds are bonds exclusively reserved for financing projects or assets with an environmental and/or social purpose.
Crédit Agricole CIB is a co-founder of the Green Bond Principles and the only European bank that took part in drafting them in 2013.
Green Bond Principles create a framework for the use of proceeds, the process for project evaluation and selection, the management of proceeds and the reporting for the issuance of these Green Bonds. They offer investors the availability of the information required to evaluate the environmental impact of their investments.
These principles have become a market standard. In 2016 under the leadership of 3 banks, including Crédit Agricole CIB, they were extended to Social Bonds, by drafting Guidance for Issuers of Social Bonds.
Crédit Agricole CIB has been working in this market since 2010 and it has ever since been one of its top arranger worldwide. The Bank received the Global Capital Award SRI for the 6th consecutive year and IFR's ESG House of the Year award for the 5th consecutive year in 2019. 
CSR SECTOR POLICIES 
CSR Sector policies detail the social and environmental criteria taken into account in the Bank's financing policies.
These criteria mainly reflect the societal challenges that were identified as most relevant for a corporate and investment bank, in particular concerning human rights, the fight against climate change and the protection of biodiversity.
For each sector a framework of reference is defined to list the relevant norms and standards to appreciate clients' environmental and social practices compared with the sector's good practices. The policies specify the criteria used to analyse the transactions and the exclusion criteria used to define the projects and transactions the Bank does not wish to support.
Crédit Agricole CIB drafted and published CSR sector policies for sectors in which environmental and social challenges are the strongest. 
OUR INVOLVEMENT IN FIGHTING CLIMATE CHANGE 
In order to limit the exploitation of fossil fuels and reach the target of keeping global warming under 2°C by the end of the 21st century, Crédit Agricole S.A. announced in May 2015 its decision to stop financing coal mining and fossil fuel operations in the Arctic in 2017 and has adopted in June 2019 a climate strategy aligned with the Paris Agreement. 
On financing energy transition, Crédit Agricole CIB:
is developing its business activities of financing renewables projects and structuring Green Bonds with a view to doubling the size of its green loans portfolio by 2022.
encourages relevant partnerships for financing environmental projects.
In respect of climate-related risks, Crédit Agricole CIB has been working for several years on gaining a better understanding of climate-related risks and on handling them. It intends to continue this work by:
estimating the carbon footprint linked to its portfolio of loans and investments,
defining sector policies for the sectors accounting for a sizeable proportion of this footprint. The goal is to cover 80% of this footprint.
gradually introducing an analysis linked to taking into consideration the issues surrounding global warming and the price of carbon in loan applications. The aim is to find which climate-related risks are most relevant for the Bank and to develop a methodology for assessing them. 
OUR "GREEN SALES" PROGRAMMES 
As part of the Finance for Tomorrow scheme backed by the Paris Market Operators, Crédit Agricole S.A. is committed to developing its green range of products and services.
The Sustainable Banking Service
In 2010, a Sustainable Banking Team was set up in the Crédit Agricole CIB Sales Schemes arm. Its role is to advise the Bank's key customers on their transactions with social and environmental components.
Find out about our Sustainable Banking Service
Renewables
Financing renewables is an integral part of the strategy of Crédit Agricole CIB, one of the leading players in financing such projects. 
The Bank first entered this sector in 1997 by financing the first wind farms, and in 2008 it financed a solar energy project in Spain.The Project Finance business line has financed a total of 435 wind farms generating more than 24,000 MW and 1,006 solar farms representing almost 9,000 MW in installed capacity. In terms of number of loans, renewable energy represented over 64% of electricity generation project finance in 2018.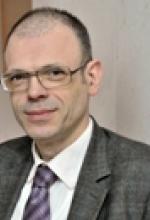 "We try to act in a particularly effective and useful way for the planet as well as for all our clients."

Eric Cochard,
Head of Corporate Social Responsibility