Three major players within the intermodal transportation sector obtain the refinancing of their revolving credit facilities
Crédit Agricole CIB made a big step forward in solidifying its role as a key new player in the intermodal finance market.

Recently, Crédit Agricole CIB was able to use the refinancing of three benchmark RCF facilities of its client's CAI International, Textainer Group Holdings and SeaCube Container Leasing to not only increase its commitments by ~$100m from previous levels, but to also successfully tier up in the lending group for all three deals.
Our relationship with these three clients was initiated as part of the Dutch Bank ABN's portfolio acquisition. Since the acquisition, we have developed a close relationship with each of them, which in turn allowed us to increase our commitment and move closer to the top-tier bank group for each client.
We acted as Co-Documentation Agent on CAI International's dual tranche $1.38bn Term Loan and RCF, Co-Documentation Agent on Textainer Group Holdings $1.9bn RCF, and Joint Lead Arranger and Co-Syndication Agent for Seacube Container Leasing's $1.3bn RCF.
With these benchmark facilities, our clients were able to extend maturities by 5 years, tighten pricing, transition to SOFR (Secured Overnight Financing Rate), and upsize the total facility amounts to provide additional capex capacity.
Being a new player in the Intermodal industry and against a tight timeline set for closing, it was crucially important for the Bank to deliver on these deals to prove our reliability to these key clients.
Having not only achieved this in a very professional manner, but at the same time committing to an aggregate of ~$100m more in exposure across the three deals, Crédit Agricole CIB made a big step forward in solidifying its role as a key new player in the industry and vis-à-vis our Intermodal clients. This allowed us to tier-up in lending position with the largest container lessors in the world and enhances our chances for cross-selling and future financing opportunities.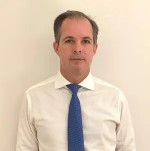 "Being a new bank in the Intermodal industry, we promised our clients that we want to become a strategic and reliable partner for the future. When this was put to the test during the middle of the summer with 3 concurrent deals, the Bank coordinated resources and delivered in an impressive fashion and on its promises to each client. There is no better outcome than having a happy client and this success belongs to each colleague involved in making this happen."
Christoph Clauss, Head of Intermodal Finance Americas