Record number of deals recognised by The Banker in the Deals of the Year Awards
Every year, The Banker's Deal of the Year Awards recognise the most noteworthy transactions across the world.

The Banker is an international financial affairs publication owned by the Financial Times. The magazine provides key source of data and analysis for the world's banking sector. 
This year, Crédit Agricole CIB led or supported 15 deals which have been recognised at the Banker's Deal of the Year Awards. These awards reflect our expertise across asset classes and geographies and the high number of deals in the field of sustainable finance highlights the increasingly important role of sustainable finance, and our leadership in this segment. 
Congratulations to all our clients, and the Crédit Agricole CIB teams involved.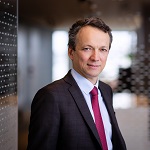 "These awards are a great recognition and the high number of sustainable transactions reflects the commitment of all our business lines to develop sustainable finance instruments for clients over the years, supporting the growth of sustainable finance, with social, green bonds, loans and finance projects across the globe. Congratulations to all the teams involved."
Tanguy Claquin, Head of Sustainability
 
List of the 15 deals awarded:
Africa
Infrastructure & Project Finance: Angola $1.1bn Project financing to develop and improve water infrastructure (Crédit Agricole CIB was on the IBRD $910 m covered loan)
Americas
FIG Financing: Banco do Brasil $500M Social Bond
Loans: Ford's sustainability-linked revolving credit facility
Infrastructure & Project Finance: Autopista Río Magdalena toll road $740m project financing
Asia Pacific
Bonds Corporate: Reliance Industry $4bn triple tranche bond
FIG Financing: Axis Bank $600m Sustainable Perpetual Issuance
Leveraged finance: Yingde Gases Group's total financing package of USD $1,8bn
Loans: Airtrunk conversions of A$ 2.1bn loan into sustainability-linked loans
Infrastructure & Project Finance: Greater Changhua 1 offshore Wind project
Europe
Infrastructure & Project Finance: Dogger Bank C £3bn project funding
Leveraged Finance: Iliad's €8.8bn acquisition financing (CACIB on Bridge financing and High Yield Bonds)
Securitisation: Europcar 1.7bn€ pan European rental fleet securitisation programme 
Sustainable finance: European Union NGEU Inaugural 15-year EUR12bn Green Bond
Middle East
Loans: EIG five-year acquisition financing Bridge Facility
Sustainable Finance: APICORP US$750mm 5-year Inaugural Green Bond Transaction