Our Taipei branch celebrates its 40+ years anniversary and inaugurates its new offices
We are delighted to have officially inaugurated our new office premises in Taipei Nanshan Plaza, while celebrating the 40+ years of Crédit Agricole Group's establishment in Taiwan.

After a long standstill in hosting foreign visitors, we were pleased to welcome Olivier Bélorgey, our Deputy Chief Executive Officer & Finance Director to Taiwan to lead the celebration on October 20, along with a few others top executives such as Dominique Blanchard, Global Markets Regional Head for Asia-Pacific and the Middle-East, and Cecile Bennehard, Head of Portfolio Management Asia-Pacific,
This 40+ years anniversary was an excellent opportunity to reconnect with more than 300 clients, partners alongside our local staff.
The two occasions not only symbolise our achievements in this market and our contributions to Taiwan over the past four decades, but it also spurs on the business momentum for the future aligning with the Bank's purpose to best serve its client needs and the society. Primarily in raising liquidity while financing cross-border activities, particularly in the technology and renewable segments where our Taiwanese clients benefit from global leadership and local expertise.
Through a rich history with former Crédit Lyonnais and Banque Indosuez, our presence in Taiwan dates back to 1981 as the first French bank to enter the market. Since 2004, we have been operating under Crédit Agricole CIB | 東方匯理銀行 and have become one of the most well-established foreign banks, actively servicing many of the local financial institutions and corporates.
Our mission to live up to our raison d'être "Working every day in the interest of our customers and society" will prevail and we look forward to welcoming many more anniversaries in the years to come.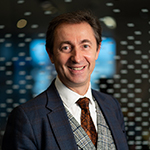 "I was pleased to be with all our clients and employees to celebrate our Taipei branch 40th anniversary and to share that Crédit Agricole Group is in a robust position. Our balance sheet is backed up by a solid capital base – here to support our clients in their international and sustainable developments."
Olivier Bélorgey, Deputy Chief Executive Officer and Finance Director
"Crédit Agricole CIB Taipei branch has matured with the Taiwanese economy. 40 years ago, Indosuez was financing the globalisation of this young Tiger economy and is still on the course today, yet with bigger ambitions as driven by the Crédit Agricole Group, particularly in sustainable finance where we have been participating in the financing of numerous local offshore wind projects."
Benjamin Lamberg, Chief Executive Officer of Taipei branch