Latest China's Ministry of Finance €4bn bond issuance sets 2021 new record in Asia-Pacific
After a USD-denominated sovereign bond in October, China's Ministry of Finance issued a EUR 4bn senior unsecured bond on which Crédit Agricole CIB acted as Joint Lead Manager & Joint Bookrunner.

The Ministry of Finance (MOF) of the People's Republic of China successfully issued a multi-tranche EUR 4 billion senior unsecured bond, including a EUR 1.5 billion 3-year bond, a EUR 1.5 billion 7-year bond and a EUR 1 billion 12-year bond. The deal marks the biggest EUR issuance year-to-date 2021 in Asia-Pacific and provides global investors in major economic regions with opportunities to invest in high-quality Chinese sovereign credit denominated in EUR. 
This is the 7th time that Crédit Agricole CIB participates in the offshore bond issuance for the MOF since 2018, acting as the Joint Lead Manager and Joint Bookrunner on this sovereign transaction and the 3rd time mandated by the MOF for its offshore EUR bond issuance.
The MOF tapped the international debt capital market again after the successful USD 4 billion bond issuance last month. The USD and EUR bond issuances in two consecutive months reflect China's commitment to expand and promote a high-level opening-up. As expected, the issuance received high demand from the global investors with 4.3 oversubscription, the tenor spread of this issuance allowed the MOF to effectively tap into different pockets of demand including SSA, Banks, Asset Management and Insurance investors. The deal has achieved preferential pricing across tenors. The 3-year tranche achieved negative yield whilst the tenors of 3-year/7-year/12-year complemented the current curve of 5-year/10-year/15-year bonds issued in last year, building a liquid and comprehensive fund-raising benchmark for Chinese issuers in international debt capital markets.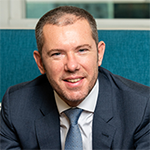 "China MOF refreshed its EUR credit curve and added new maturities with this successful issuance. All three tranches were priced with negative New Issue Premium, which was a reflection of robust demand and the strength of EUR bond market. The transaction was met with overwhelming market response from the onset of execution - we received a considerable amount of early investor interest even before the bookbuilding process started. 
While bank investors took the biggest share, active European and Middle Eastern participation were seen overall, notably in the 7 and 12-yr tranches. By maintaining its presence in the EUR bond market, China MOF deepens and expands its connection with the EUR investor base as we see fresh names in the orderbooks across tranches. This effectively lays the ground for the other Chinese issuers to benefit from a bigger EUR pocket of demand in the future as we believe the EUR capital market still has significant untapped potential."
Christophe Crétot, Head of Debt Origination and Advisory, Asia-Pacific