Hong Kong recognises us as a leading facilitator for green and sustainable finance
The Hong Kong Quality Assurance Agency (HKQAA) has once again acknowledged Crédit Agricole CIB's long-standing commitment to green and sustainable finance in Hong Kong.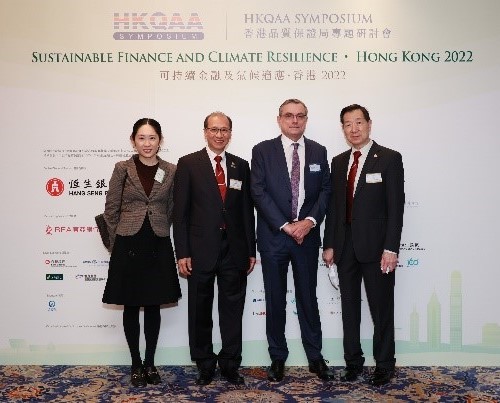 Established in 1989 as a non-profit-distributing organisation by the Hong Kong Government, the HKQAA helps industry and trade in the development of quality, environmental, safety, hygiene, social and other management systems.
To highlight organisations' efforts in contributing to the United Nations' Sustainable Development Goals (SDGs), encourage sustainability-related financial instruments and support Hong Kong's development into a sustainable finance hub in the region, the HKQAA launched the Hong Kong Green and Sustainable Finance Awards.
For the second consecutive year, Crédit Agricole CIB received the following awards:
Outstanding Award for Green and Sustainable Loan Facilitator (Global Financing Service) - Greatest Number of Green and Sustainability-linked Loans
Pioneering Organisation in Climate Disclosure Planning
The ceremony was held on 1 December and attended by Dominique Blanchard, Head of Global Markets for Asia-Pacific and the Middle East and Carmen Tsang, Head of Sustainable Banking, Greater China, to receive their awards.
An active contributor to Hong Kong's green finance ecosystem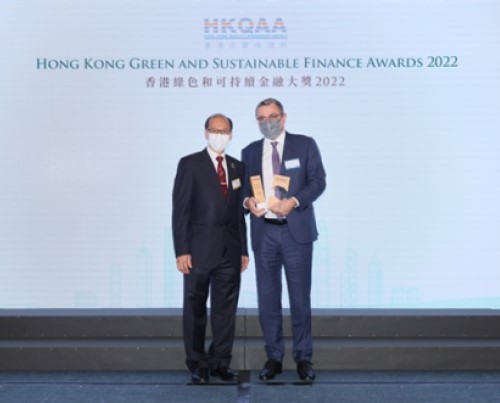 As one of the first foreign banks in Hong Kong, with origins dating back to July 1894, we have gained in-depth knowledge of the city's market dynamics over the past 125 years and have witnessed its evolution, especially with regard to environmental and social matters.
This year, Crédit Agricole CIB has been the only French Bank to become a Cornerstone Member of the Alliance for Green Commercial Banks, whose Asian chapter was jointly launched by the International Finance Corporation (IFC) and the Hong Kong Monetary Authority (HKMA).
We have been the Joint Green Structuring Bank for the Hong Kong SAR Government Green Bond series since 2019, and have been supporting and advising Hong Kong clients on their journey in sustainable finance.
Leveraging on a collective approach and sharing of expertise, we were also an advisor of the newly established Hong Kong University of Science and Technology (HKUST) Green and Sustainable Finance BSc.
Leadership in sustainable finance
The Bank has been very active in many of the new developments in the Hong Kong market this year thanks to its cutting-edge expertise in sustainable finance.
To name just a few, below are some of the milestones illustrating our capabilities and ambitions to serve the interest of our clients and society:
The Hong Kong Mortgage Corporation Limited (HKMC) HKD 8 billion and CNH 3 billion social bond: first-ever dual-tranche HKD and CNH social bond in the international debt market and issuer's debut issuance, to support local businesses affected by the COVID-19 pandemic in Hong Kong.
Joint Global Coordinator, Joint Lead Manager, Joint Bookrunner and Joint Social, Green and Sustainability Structuring Advisor
 
Towngas Smart Energy Company Limited USD 200 million sustainability-linked bond (SLB): utilities sector first SLB in Asia-Pacific region and issuer's inaugural SLB following the publication of the Sustainability-Linked Financing Framework.
Sole Structuring Advisor, Joint Global Coordinator, Joint Bookrunner & Joint Lead Manager
 
Goodman HK Finance HKD 700 million sustainability-linked loan: client will be entitled to a margin reduction if its Global ESG Benchmark for Real Assets score shows further improvement.
Sustainability Coordinator, Mandated Lead Arranger/Lender, Hedging Bank
 
Industrial Bank Hong Kong Branch USD 50 million repo: issuer's first green repo, with proceeds exclusively used to finance the issuer's eligible green loans in line with its green bond framework.
Green Structuring Advisor
 
Bank of China (Hong Kong) Limited HKD 500 million repo: issuer's first green cross currency repo, in which a non-green US-denominated bond was collateralised to the counterparty, and the Hong Kong dollar fund obtained was linked to a green loan of BOCHK to support sustainable building projects.
Green Structuring Advisor and Counterparty on the Green Repo
Through close relationships and constructive dialogue, we are pleased to have accompanied Hong Kong in its sustainable development and commitment to climate change, and we will continue to support its leadership and aspirations to move to the next level.