Hong Kong Fintech Week & the Singapore Fintech Festival: exploring the financial industry's digital transformation
In November, we discussed the challenges the financial industry faces with digital transformation & innovation at these two events in Asia.
This month, Crédit Agricole CIB took part in two major events dedicated to innovation: the Hong Kong Fintech Week and the Singapore Fintech Festival. These two platforms brought together innovators, startups, investors and enterprises from around the world to share ideas on the innovation challenges and needs of the financial industry.
HONK KONG FINTECH WEEK
On November 8th, Crédit Agricole CIB Hong Kong sponsored the 1st edition of the Financial Innovation Seminar - Connecting France and Hong Kong, a side event of the Hong Kong Fintech Week 2019. The Seminar was organised by the French Consulate in Hong Kong & Business France, with the support of Hong Kong Fintech Week InvestHK, La FrenchTech, Hong Kong Monetary Authority (HKMA) and Banque de France.
The aim of this event was to discuss the challenges and opportunities of how the ecosystems in France and in Hong Kong can be supported by the different players to stimulate further innovation, and to continue the development of France and Hong Kong as the world's leading Fintech hubs. 
François Martin, Chief Executive Officer for Crédit Agricole CIB Hong Kong Branch, participated in the panel "Boosting the Fintech Ecosystems, France & Hong Kong experiences", together with a startup from Le Village by CA*, Chekk, and other industry experts.
François Martin discussed the importance of innovation and intrapreneurship in the banking industry and how strategic partnerships creates sustainable value for everyone. He also highlighted the success of Le Village by CA and Crédit Agricole CIB's digital transformation approach. 
"France and Hong Kong are building strong ties to connect their respective fintech ecosystems. We, at Crédit Agricole CIB, are pleased to support these initiatives." 
François Martin, Chief Executive Officer for Crédit Agricole CIB Hong Kong Branch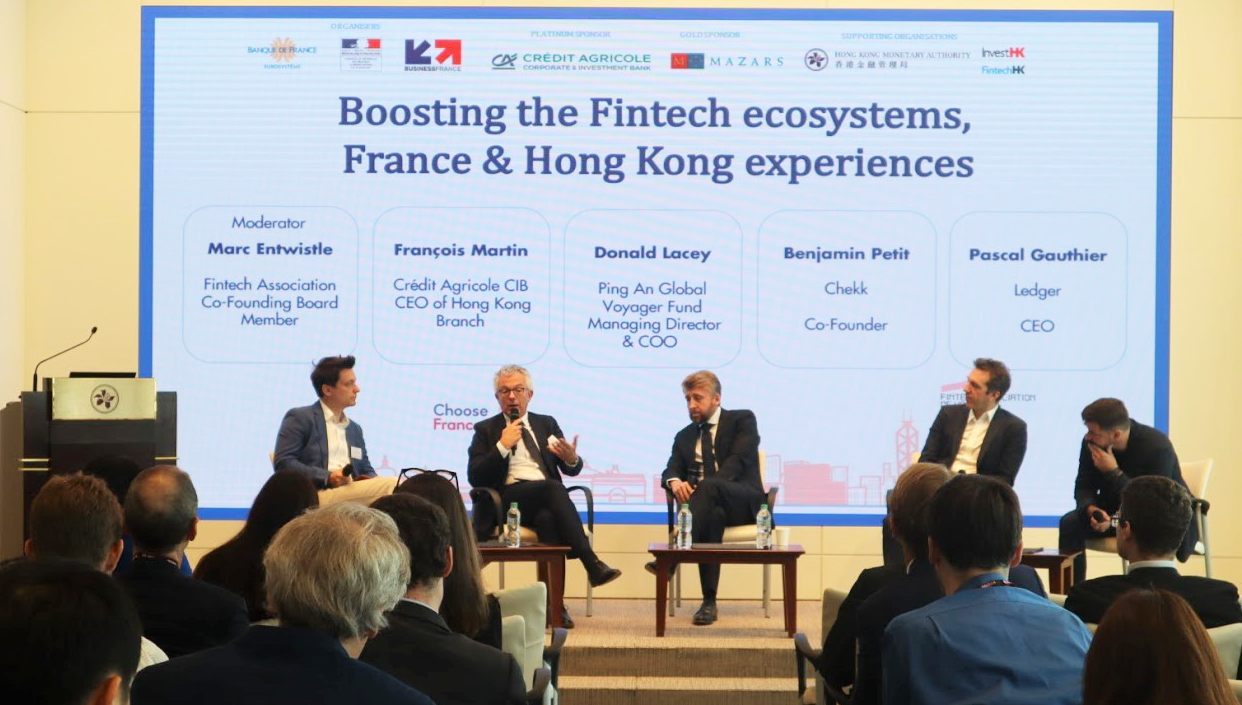 SINGAPORE FINTECH FESTIVAL
In Singapore, Crédit Agricole CIB sponsored, for the third consecutive year, the world's largest FinTech festival from November 11th to 15th, organised by the Monetary Authority of Singapore, in partnership with the Association of Banks in Singapore and in collaboration with SingEx. For the first time, Singapore FinTech Festival (SFF) and the Singapore Week of Innovation and TeCHnology (SWITCH) came together as SFF x SWITCH. 
The FinTech community discussed the latest innovations and explored opportunities through conferences and exhibitions across five sectors: advanced manufacturing and engineering, urban solutions and sustainability, health and biomedical sciences, services and digital economy, FinTech.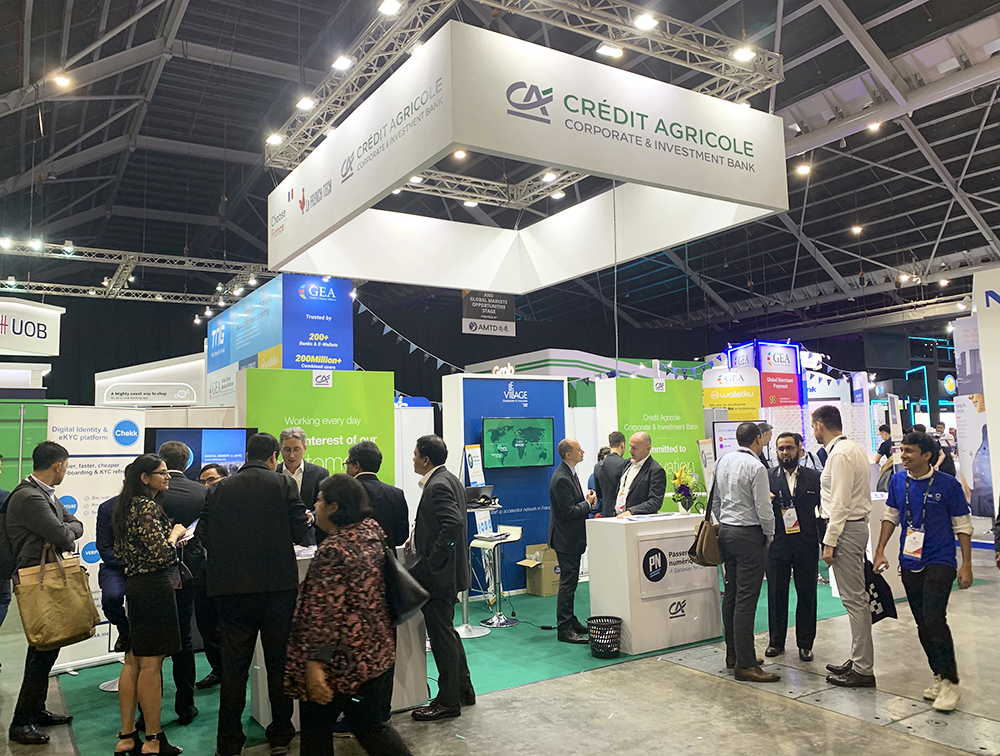 Crédit Agricole CIB partnered again with Le Village by CA to build a bridge between Finance and Technology, engage with the innovation ecosystem and demonstrate the Bank's commitment towards providing innovative solutions for its clients.
Two startups from the Village showcased their innovative products and services at our booth:
Chekk - specialised in Digital Identity & eKYC solutions for retail & corporates,
Trade.Easy, which developed a software to monitor international trade activities and improve customer satisfaction. 
We also welcomed fragmos chain, a startup which uses blockchain to provide solutions to bring security, fluidity and efficiency to the post-trade management of financial instruments, as well as Passerelles Numériques, a French IT NGO active in the education field at our booth. 
Green finance was one of the five key areas of focus of this year's event, and Dominique Duval, our Head of Sustainable Banking for Asia Pacific, moderated a panel (see picture below) on what climate change would have done to our world in 2100 and the actions, changes and regulatory shifts required to achieve ecological transition.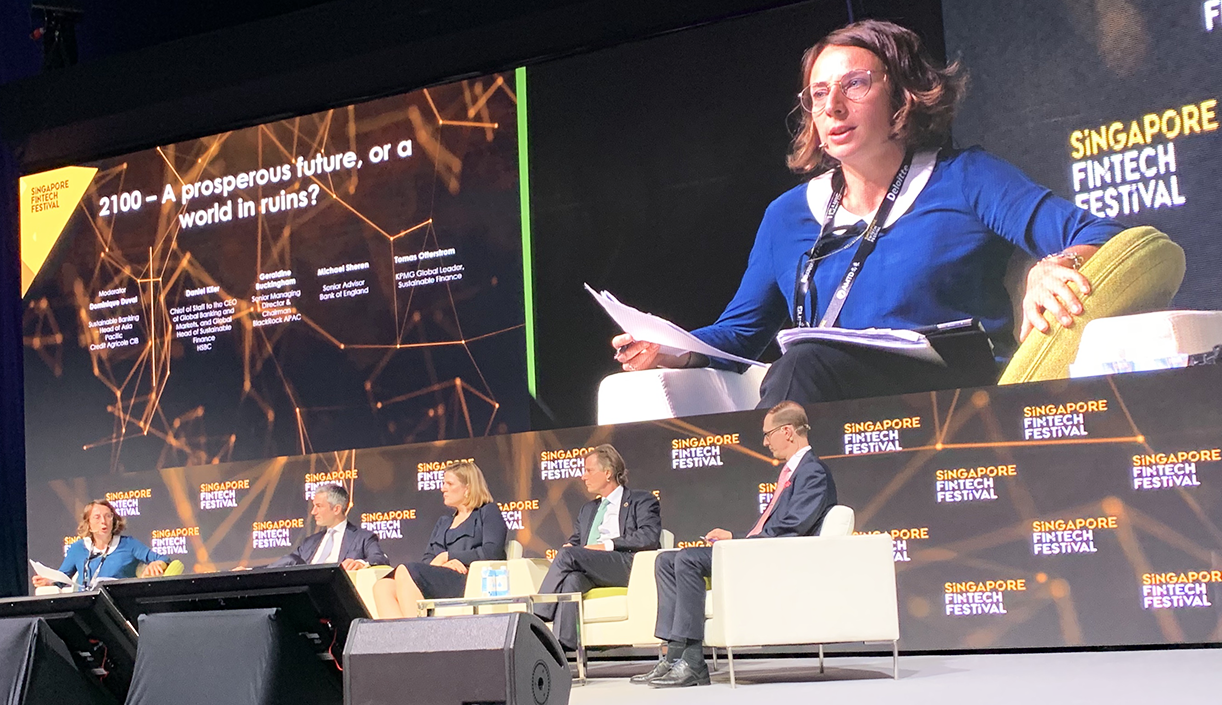 "Crédit Agricole CIB is proud to have partnered with the French community - BPI, Business France, la FrenchTech - to host 50 startups from the French Fintech ecosystem at our booth. We are committed to support innovation in France, thanks to our collaboration with the Village by CA and its network of 640 startups, as well as in Singapore, where we demonstrated French success in Technology and Innovation during the Fintech Festival."
Jean-Pierre Michalowski, Senior Country Officer for Singapore 
"With the Crédit Agricole Group's Raison d'être "Working every day in the interest of our customers and society", it was a great opportunity for Crédit Agricole CIB to support open innovations and NGOs, which is important to boost our own organisation, ecosystem, way of working & innovating as well as to contribute to the real economy. The Singapore Fintech Festival is especially important for us because our Information Systems Asia Pacific (ISAP), based in Singapore, is the Bank's 2nd largest IT setup globally."
See Koo Chang, Head of ISAP and Global IT APAC & Middle East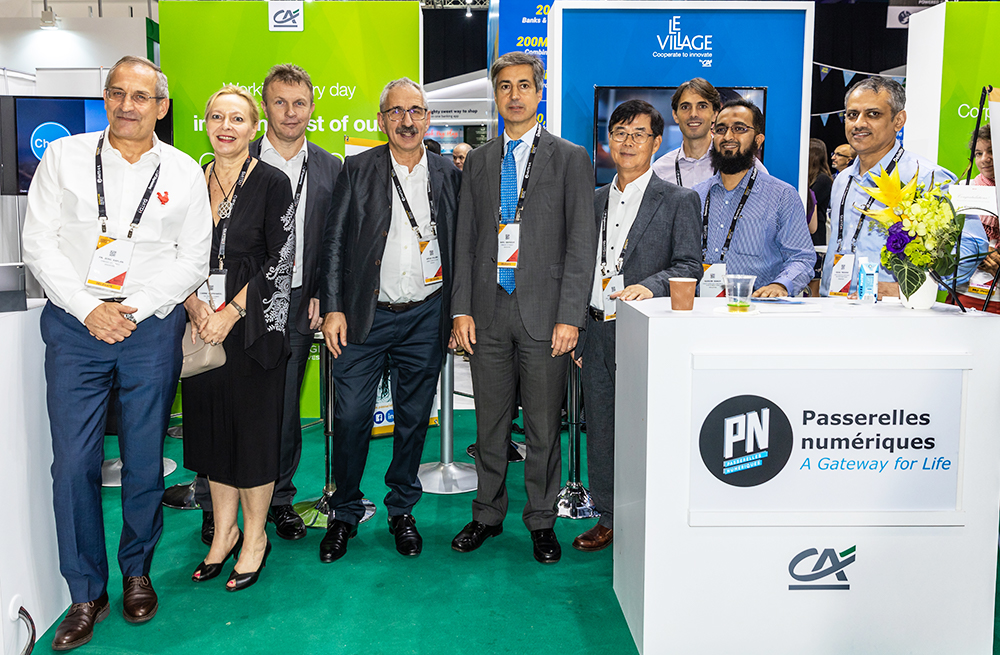 We are proud to have been part of these two important events dedicated to innovation in Asia Pacific!
*Crédit Agricole's startup accelerator