Helping Hand 2018: the Bank helps to improve the day centre for homeless people created by Secours Catholique
Discover how committed Arnaut Menonville is within French non-profit Secours Catholique and how a day centre for homeless people was improved thanks to the Helping Hand donation.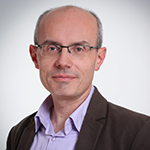 Since the beginning of the year, you have discovered the charity projects of many winners of the Helping Hand 2018. After testimonials from Drew NG (Green Nudge), Claudia Daly (DKMS), Laurence Grimoud (Terre de Sens 07), David Rocher (Go to Togo) and Martine Guillois (French Red Cross), we invite you to read Arnaut Menonville's interview and learn more about the project he supported for Secours Catholique, a French non-profit association whose mission is to foster Christian charity by promoting practical solidarity between all people.
What is the purpose of the charity you presented?
 
"La Pause" is Secours Catholique's unconditional day centre in Antony (in the suburbs of Paris). 
It's open two mornings a week and offers an opportunity to people, no matter their race, religion or beliefs, to have a good breakfast, take a shower, wash their clothes, play games, talk, warm up, relax, etc. We have room for 30 to 35 people.
"La Pause" welcomes people living on the street, people with a variety of disabilities. The volunteers and the guests are working together to make this a warm place and create social bonds.
 
What is the nature of your involvement in the charity?
I've been volunteering for Secours Catholique for around 8 years. I regularly spend my Saturday mornings at "La Pause". We cook and have breakfast together, listen to people who want to talk, and play games.
Overall, it's a very enjoyable time, full of discoveries and surprises. It's like a non-alcoholic inn where different worlds come together.
As manager, I help the volunteer team look after the project along with our guests, and I ensure its inclusion in its environment: the city of Antony and various charities.
 
What is the scope of the project you presented?
The project I presented is to replace our washing equipment so we can wash and dry as much laundry as possible while "La Pause" is open, so people can leave with clothes that are clean and dry. It's a great way to improve our welcome. Our machines are used a lot and are quite old. Also, it takes a lot longer to dry laundry than to wash it. Due to this, some people end up leaving with wet laundry. 
 
What has your participation in the Helping Hand programme brought you?
It has allowed me to discover the enormous variety of commitments taken on by my colleagues, in charities at the service of life, and now I see other facets in the people I meet at Crédit Agricole CIB.
It has also been an opportunity to take a step back from my commitment, share about it, allow my fellow volunteers to discover Crédit Agricole CIB and appreciate its support programme. When I presented the project, I realised that the jury was very sympathetic to the circumstances of the people I was representing.
With the Helping Hand programme, Crédit Agricole CIB is fostering an extraordinary chain of solidarity!