Great turnout at the Debt Optimisation & Distribution team's successful Alternative Assets Investor's event
On January 22nd, 2019, our Debt Optimisation & Distribution team held its 2nd Alternative Assets Investor event in our London offices.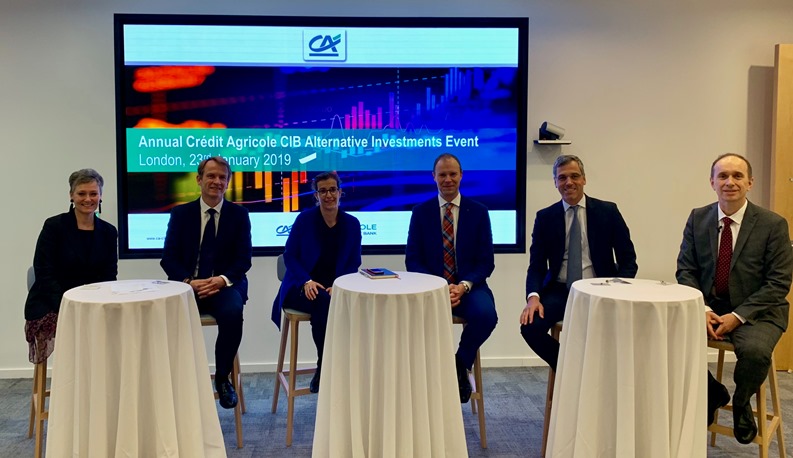 Given the increasing importance of allocations from the institutional market to the "Alternative Assets" class, this annual event is the recognition of an investor base that re-shaped the once traditionally bank-dominated market. 
The event, hosted by Jamie Mabilat, Global Head of Debt Optimisation and Distribution, and Xavier Fessart, Global Head of Structured Distribution, on behalf of the structured finance distribution teams, kicked off with a panel that brought together key market participants around a very topical theme: Economic outlook for 2019 and implications for investment strategies in alternative assets. The timing could not have been better as we witness a plethora of uncertainties: capital markets volatility, Brexit, geo-political instabilities, trade wars, weakening growth, and changing interest rate environment, just to mention a few.  
Debt Optimisation and Distribution's Structured Finance Distribution teams encompass Infrastructure, Energy & Natural Resources, Real Estate, Aviation, Rail, Shipping and Leveraged Finance.
The event was privileged to have Crédit Agricole S.A. Chief Economist Isabelle Job-Bazille set the stage with a presentation for the economic outlook in 2019. The panel was moderated by Xavier Fessart and was composed by:
ALLIANZ GI - Claus Fintzen – CIO and Head of Infrastructure Debt
AXA Group - Emmanuelle Nassebridier -  Chief Credit Officer
Schroders  - Charles Dupond –– Head of Infrastructure Finance 
Aviva  Investors - Barry Fowler –– Managing Director, Alternative Income
The continuous support from the investor community at this event is also a response to our very strong franchise in these sectors reflected by the latest set of 2018 league tables (source: Dealogic): 
#1 MLA Project Finance in Europe
#2 Financial Adviser PF EMEA
#4 MLA PF Globally
#3 Bookrunner for Transportation in EMEA
#2 Bookrunner for Real Estate in EMEA