Employee Portraits – Théophile Walter, Big Data Developer
Théophile Walter, Big Data developer at Crédit Agricole CIB's Information Systems department, talks about his career and daily work.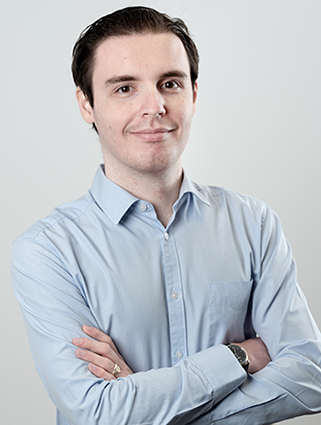 "I'm Théophile Walter and I work as a Big Data developer within Crédit Agricole CIB's Information Systems department." 
What does your job involve? 
Théophile Walter: I work on the development of big data applications, including research on and the development of client needs, as well as solution design and proposals.
Can you tell us about your career?
T. Walter: I started out with a high-school diploma in science and a Bachelor's degree in Computer Science and then went on to obtain my Master's in Big Data on a work/study basis. I did a two-year work/study programme at Crédit Agricole CIB, where I was hired after obtaining my Master's.
Why Crédit Agricole CIB?
T. Walter: I didn't know anything about the banking and finance sector when I started my work/study programme at Crédit Agricole CIB. During my Master's, I discovered an extremely varied environment and topics. We are provided with all the resources for working on data with new solutions. 
What about career prospects?
T. Walter: Several career paths are possible, obviously depending on my goals and on opportunities. You can specialise and become an expert on certain technologies, so you can dialogue with other teams and familiarise them on these technologies. Others prefer to focus on project management and management.
Does your profession call for specific expertise?
T. Walter: I think you need a logical mindset because some complex problems, algorithms in particular, call for extensive thinking to find the right response to a need, notably in terms of performance optimisation.
Could you describe a typical day for us?
T. Walter: A typical day generally involves the development of tools for managing and calculating market risks. Depending on the phase, this consists of dialogue with business analysts, code designers and architects on the design of the report. Then there's development in itself, as well as tests to make sure the report fully responds to objectives. I also work on following up and correcting any potential production issues. 
What technologies do you work with? 
T. Walter: The data used in our reports is stored in a data lake at a Hadoop cluster. We use Spark in Java and Python to make the distributed calculations and manage data flows with Kafka. We also use Jenkins for the automated management of tests and continuous integration.
On a daily basis, do you have the opportunity to familiarise yourself with new technologies?
T. Walter: Crédit Agricole CIB gives you many opportunities to learn about new technologies, frequently organising conferences with talks by experts. Online training is available on a broad range of subjects. We also have a community of developers that organises events where you can meet with a diverse set of individuals and find out about technologies other than the ones you use in your work.
What would you say to a student looking to join Crédit Agricole CIB as a big data developer?
T. Walter: You need sound knowledge of big data environments, as an understanding of the way the various components interact is crucial for effectively developing optimised applications.
Any particular anecdotes?
T. Walter: More a pleasant memory. When I took part in the best developer in France contest with the Crédit Agricole team, I met with developers from across the group and LCL, talked with them and went through to the final with some of my colleagues. It was a fantastic day!
 
---
Check out all our job offers on our careers website. See you soon in Crédit Agricole CIB's data science communities!