Employee Portraits - Marie Rakotopara, IT Innovation Project manager
Marie Rakotopara, IT Innovation Project manager within the IT team in charge of Crédit Agricole CIB's compliance tools, explain her background and her job.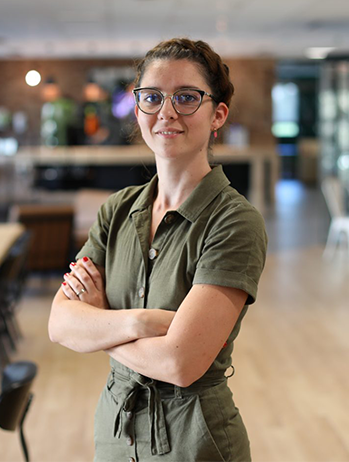 "Within the IT team in charge of Crédit Agricole CIB's compliance tools, I manage innovative projects (Artificial Intelligence, Datavisualisation, chatbots, ...). My role is to ensure the projects move forward with the quality expected by the business. I interact on a daily basis with Compliance, development teams in Singapore, and with other IT teams who help us with our projects.
I rely on the knowledge and experience of my compliance IT colleagues and my managers who are there to help me if necessary. I also play an advisory role by conveying to the project teams the views of IT on architecture, security and urbanisation.
I participate in budget monitoring by following consumption as the project advances and by sending alerts if necessary."
Can you describe the job of an IT innovation Project manager?
Marie Rakotopara: Innovative projects cannot be conducted in the same way as classic projects. They are sometimes uncertain and unpredictable. Being creative, questioning and listening are therefore important to imagine the solutions best adapted to the needs of Compliance.
My role is also to create a healthy and pleasant environment where team spirit can thrive. This is essential in general and even more so with innovative projects. I must also gain the trust of final users who will be the ambassadors of the new tool that will be created.
In a multi-disciplinary and multi-cultural environment, it is important to understand the various profiles in order to adapt written and oral communication.
What are the highlights of your job throughout the year?
Marie R.: The year is governed by the scheduling of our projects. We are very busy when new projects are launched, when a new team needs to be set up, with members who do not necessarily know each other, and when we must imagine together a new target vision and organise our daily lives.
Later, when the project is delivered, the final users see the materialisation of the needs they expressed several months beforehand, and their job or everyday life is improved by the new tool we built with them. We usually celebrate this launch by a friendly lunch or a drink with all the team members who were involved in the project.
During the second part of the year, time is set aside with other project managers and the business line to define the list of issues for the next year, to quantify them and to schedule them in order to create the roadmap for the following year.
Could you describe a typical day?
Marie R.: According to the progress of each project I make sure that the whole project team has everything needed to conduct the ongoing work, I answer questions to resolve complicated situations, I run meetings to summarise the situation for management and take part in brainstorming workshops. I communicate daily with people on site, and remotely with development teams in Asia, and with users located in our subsidiaries, in London in particular.
I don't spend all my time in meetings, and am sometimes on my own, working on the written and concrete formalisation of current ideas, for example by creating models or drafting project components. In an innovative environment, this helps to represent the project's main ideas and to have them approved.
A typical day is also defined by informal coordination meetings, over a coffee for instance. It makes it easier to talk freely with a smaller number of people and to debrief meetings and discuss complex issues. These are often the meetings that bring out new ideas. Each day is also full of constant interactions with the whole project team, during meetings, by phone or via internal chat tools.
Can you tell us about your career? What are the requirements for a job like yours and what are its prospects?
Marie R.: I was trained as an engineer and started out as a business analyst on smaller and more standard projects. I also have a three-year experience with development teams in Singapore. This experience gives me a varied technical and functional knowledge base. A simple project management training course completed this expertise with the methods and tools required for this position. There are many ways to reach a position like mine, as the main requirements are a wide-ranging knowledge, rigor and open mindedness. Previous experience in IT projects and project management in general is required.
What messages would you like to convey to those who would like to work in a position like yours?
Marie R.: To manage innovative IT projects, we must prioritise creativity over methods and standards. For this, commitment to the project and good communications are crucial to have the support of participants and management, and to make sure the project moves in the right direction. There is a widely held belief that large companies are not capable of innovation, yet several Crédit Agricole CIB business line processes now include AI components.
By definition, an innovative project involves little-known technologies and therefore carries a greater risk of failure than a traditional project. It is therefore important to identify as soon as possible the project components that carry this risk so they can be prioritised.
To stand out in this job, it is a good idea to be ahead of the curve by taking a step back and anticipating business line needs. By conducting a technology watch for instance, but also by brainstorming with the experts of the field and of course with the business line itself
 
See all employee testimonies on our Newsroom.