Employee Portraits – Anne-Laure Cochet, Head of Application
Anne-Laure Cochet, Head of Application at Crédit Agricole CIB's Information Systems Department, talks about the launch of a new project to digitalise the negotiation phases between sales & traders.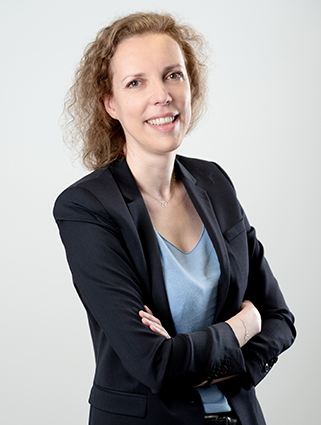 "I'm responsible for the "PRICE" pre-trade platform at the Capital Markets IT Department of Crédit Agricole CIB."
Can you tell us how this project originated?
Anne-Laure Cochet: The project is based on an idea co-built by the business line and IT to provide the sales and trader teams with a new pre-trade tool for digitalising negotiation.
Currently, part of the trading on non-linear interest rate derivatives is carried out via spoken word and controls are performed using multiple screens. Also, the ability to bring clients the best possible service is vital to maintaining and expanding our product franchise. With the MiFID II regulation, we have too a pre-trade transparency obligation relative to the price we announce to our clients. So, we need a tool ensuring a better time to market to respond to our clients and an audit trail to respond to the requirements of regulatory bodies.
To launch implementation and quickly approve feasibility, myself and two other employees carried out a minimum viable product (MVP) process over a two-month period. The MVP is an initial version of the application with a limited range of functionalities. It serves to quickly obtain feedback from users and put a deliverable version into production. 
What were the strong points of this organisational approach for the rest of the project?
Anne-Laure C.: This initial project phase served to approve the architecture of the solution and construct the building blocks necessary for the launch of our pre-trade application. By focusing from the very start on the security and automation of the continuous integration, continuous distribution and continuous implementation phases (CI/CD pipeline), we are now able to concentrate on adding business-line value through a better time to market. A new version of the application can be put into production in a single click and in under three minutes.
Our back-end is based on the development of application programming interfaces (REST API) aimed at making precise business-line data available in a secure manner. In this way we can build variants of the application at lower development costs responding to the specific characteristics of each user population by providing them with the data relevant to their work. It's a bit like playing with Lego©.
Can you describe a regular day?
Anne-Laure C.: The advantage of our business lines and activity sector is that no two days are alike. There is no routine, which makes our daily work more stimulating.
We have a daily meeting with all the members of our team. This is a key moment for identifying obstacles, reasserting priorities and, where necessary, making decisions on topics subsequent to new developments. 
We have a backlog, co-built with our product owner, including all the requests for the development of new functionalities and the monitoring of our technical debt. We work on a two-week iteration basis (sprint) comprising the specification, development, test, user-demonstration and production-launch phases.
I'm also in charge of monitoring the budget, hiring new staff and supporting them, as well as the stability and quality of production.
Do you need special skills to be a head of application?
Anne-Laure C.: The objective of our delivery team is to be as independent as possible in our domain area and to support our product. One of the main duties of a head of application is being a "scrum master", serving as the coordinator of the team. I don't directly solve problems, but I try to help the team to search for and identify solutions. One of the skills of a scrum master is being attentive and listening to others with a view to facilitating everyone's daily work. They also need to communicate and clearly explain the aims of the project and management to the team. They partner the business line by working transparently with the product owner on the advancement, difficulties and solutions implemented in software craftsmanship standards, while complying with IT security requirements.
Why Crédit Agricole CIB?
Anne-Laure C.: One of Crédit Agricole CIB's values is placing people at the heart of the company. In the various projects I have led or taken part in, the priority with my peers has been on collaborative work and mutual assistance aimed at finding solutions together.
Crédit Agricole CIB is also an international company present on several continents, offering the possibility of an international career. I had the chance to work in New York and Singapore at our development factory. We also make other business trips from time to time. Before the pandemic, I travelled to our premises in Tokyo and, more frequently, those in London.
What would you say to someone looking to join the Crédit Agricole CIB Information Systems Department?
Anne-Laure C.: Careers at IT, without being a developer, can be fascinating. You need to be strong on analysis and making connections. Good dialogue and cross-functional skills are also essential. I think that if you like to solve problems, are curious, and naturally propose new ideas, then you will find a fulfilling professional environment at our department!
-----------------------------------------------------
Check out all our job offers on our careers website. Stay tuned for more news from Crédit Agricole CIB's data science communities!