Crédit Agricole CIB wins "Best Asian Private Placement Dealer of the Year" at mtn-i APAC Awards 2018
This top line recognition illustrates the breadth and expertise of the Bank's MTNs & Private Placements franchise in the region.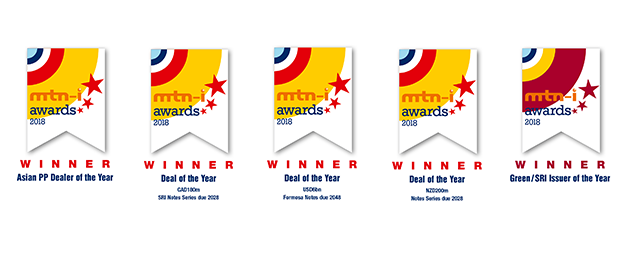 Mtn-i's Asia Pacific Awards reveal the unique contribution that MTN private placements make to the incubation of innovation and pioneering of new capital market frontiers between Europe, America and Asia Pacific. The deals rewarded are the results of 150 deals having been pitched among 24,000 Asia-targeted deals. Around 20 deals have been awarded.
Crédit Agricole CIB's cross-border leadership encompassed:
Tier 1 provider of liquidity for Chinese FIs globally
Tier 1 provider of liquidity for global Sovereign, Supranational and Agency (SSA) issuers with Asian investors
Tier 1 provider of credit and currency diversification for Japanese investors, both institutional or via uridashi
Tier 1 house in Formosa having given privileged access to Middle East issuers with Taiwanese USD and CNH liquidity
Tier 1 house in CNH – leading the pack in crossborder flow and historically a top 3 global house in the currency
Leading SRI house in Asia (Sustainable Responsible Investment)
In addition of 'Best Asian Private Placements Dealer', Credit Agricole CIB was also awarded:
Deal of the Year CAD180m (Canadian Dollar) SRI Notes

Asian Development Bank – CAD 60m
African Development Bank – CAD 60m
International Bank for Reconstruction and Development – CAD 60m

Deal of the Year NZD200m (New Zealand Dollar)

International Bank for Reconstruction and Development – NZD 40m
Bank Nederlandse Gemeenten NV – NZD 40m
Kreditanstalt fuer Wiederaufbau – NZD 40m
Landwirtschaftliche Rentenbank – NZD 40m
Nederlandse Waterschapsbank N.V. – NZD 40m

Deal of the Year 6bn Formosa Notes
Green/ SRI Issuer of the Year at the 1st Uridashi Awards
 

"The Asian investor demand is critically important to the funding need of our key SSA clients. The visibility we obtained with issuers thanks to these trades sold to institutional or uridashi buyers as well as the roadshow that we organised enhanced our profile as a global partner to our SSA issuers," commented Pierre Blandin, Global Head of SSA DCM
 

"Private Placements have been a great tool to develop the awareness of our issuers and investors alike on sustainable topics and how finance can contribute to theenergy transition and help address some of the social challenges in Asia-Pacific," added Dominique Duval, Head of Sustainable Banking for Asia- Pacific.

"The flow we see from Asia is critical to the global bond franchise with cross-border orders being fulfilled on our key issuer base. Credit Agricole CIB is a tier 1 player for the Asia investor base and is definitely one of the most active and innovative dealers in the market. This "mtn-i Asian Private Placement Dealer of the Year" award is a testimony of the quality of our MTN franchise and great cooperation among our DCM, Sales, Structuring and Derivative Trading stakeholders," concluded Benjamin Lamberg, Global Head of MTNs & Private Placements and Head of Credit, Asia-Pacific