Crédit Agricole CIB named "Hong Kong House of the Year" and "Deal of the Year" by Asia Risk Awards 2021
Asia Risk Awards 2021 recognised Crédit Agricole CIB's commitment to Hong Kong's financial market development and leading role as a pioneer in providing convexity solution for insurers in Hong Kong.

The Asia Risk Awards, the longest-running and most prestigious awards in the Asia's derivatives markets and in risk management, acknowledge firms that add value to clients especially in the face of the intense market adversity. 
This year, Crédit Agricole CIB was awarded "Hong Kong House of the Year" and "Deal of the Year", a recognition of its commitment to the development of Hong Kong's financial market including the Environmental, Social and Green (ESG) as well as supporting its clients through product innovation.
HONG KONG HOUSE OF THE YEAR
Read Risk.net's write-up about the Hong Kong House of the Year award here.
Pioneering interest rates capability to facilitate the Libor transition
Established in Hong Kong for 127 years, Crédit Agricole CIB strongly supports the global benchmark interest rate reform and proactively educate its clients and help them navigate this transition. As a market's pioneer, the Bank closed the first ever USD/CNH cross-currency swap earlier in May 2021, using secured overnight financing rate (SOFR) cleared on HKEX OTC Clear, with a Chinese financial institution. 
Goal driven
Our goal was to become the reference bank in Asia for cross-border transactions between China and international participants. Therefore, Crédit Agricole CIB has been developing its fixed income business in Hong Kong and is now one of the top arrangers for both Hong Kong dollar and offshore Chinese renminbi (CNH) issuances. The Bank is one of only five non-Asian banks designated a primary dealer for Hong Kong's government bond initiative, and also a market-maker for Hong Kong's Exchange Fund Bills and Notes (EFBN) debt issuance programme, which supplies liquidity to the local fixed income market.
Strong local presence to connect onshore and offshore renminbi markets
As a trusted advisor of RMB structured financing and hedging solutions, Crédit Agricole CIB transacted more than USD 6 billion USD/RMB structured forwards and constantly provided bespoke innovative financing solutions for our Chinese corporate clients, despite the volatile FX market and Covid-19. 
A green partner of choice
As a green bank, Crédit Agricole CIB has been actively participating in green initiatives and has supported several key transactions in the region over the past couple of years – including the Asian Infrastructure Investment Bank on the design of their sustainable development frameworks as well as the first ever green Hong Kong dollar derivatives deal of $400 million in notional value with Australian logistics company Goodman, as lead arranger. 
DEAL OF THE YEAR
Read Risk.net's write-up about the Deal the Year award here.
Innovation in convexity solution to better support insurers
Convexity management, which captures the non-linear relationship between bond prices and interest rates, is a perennial problem for life insurers. The Bank's innovative convexity solution came as a key instrument for these insurers in Hong Kong and was rewarded by the "Deal of the Year" award. To address the shortfalls of the traditional swaption-based hedging strategy for insurance companies, Crédit Agricole CIB proposed a strip of Forward Volatility Agreements (FVA) as the next-generation solution. The awarded transaction is an important milestone and sets a model for managing convexity for insurers.
For more information on the topic of convexity, read the article that our experts published on Risk.net.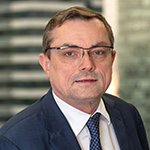 "We are proud to be recognised as one of the top players in financial innovation. Riding on the Bank's global presence and market expertise, our teams are dedicated to maintaining close partnership with our clients and customising innovative financing solutions for their businesses. This landmark transaction demonstrates our competitive capabilities and further strengthens Crédit Agricole CIB's market position. Congratulations to the teams involved and we sincerely thank our clients for their trust and confidence in us."
Dominique Blanchard, Regional Head of Global Markets for Asia-Pacific