Crédit Agricole CIB named Lead Manager of the Year for Sovereign Green Bonds by Environmental Finance
Given by Environmental Finance to our Bank for the 2nd year in a row, this award confirms Crédit Agricole CIB as a major player in the green and social bond market.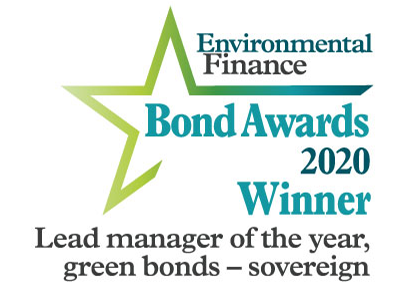 On March 30th, Crédit Agricole CIB was awarded Lead Manager of the Year – Green Bonds Sovereign at the Environmental Finance Bond Awards 2020 for the second year in a row. 
This award honours the Bank for having helped four new sovereign green bonds issuers access the market in 2019: the Netherlands, Hong Kong SAR, the Republic of Korea and the Republic of Chile, which won the Green Bond of the Year – Sovereign award. 
Environmental Finance specifies: "winners were decided by a panel of 30 judges made up of some of the world's largest green, social and sustainability bond investors. The market's stamp of approval means that the Environmental Finance award is a highly prized accolade.". 
For more information on this award, read Environmental Finance's write-up on this award. 
 
In addition, Crédit Agricole CIB was involved in the following awarded deals: