Italy issues a €8.5 billion inaugural green bond
On 3 March 2021, the Republic of Italy issued its inaugural green bond, the largest ever sovereign green bond in the Eurozone.
Italy successfully priced its EUR 8.5bn inaugural green bond in the BTP format, the new Italian government bond designed to support public expenditures with positive environmental impacts.
The transaction attracted more than €80bn orders from a very diversified and high quality investors base, setting a new record as the largest green debut ever for a sovereign. 
Crédit Agricole CIB acted as Joint Structuring Arranger and Bookrunner on this exceptional issue, which establishes Italy at the forefront of the sovereign green bond market.
Crédit Agricole CIB also acted as structuring advisor on Italy's Ministry of Economy and Finance's Framework for the issuance of Sovereign Green Bonds (BTPs Green), published in February 2021.
This is a critically important milestone in the Bank's sustainability strategy as it strengthens Crédit Agricole CIB's leadership position as a structurer of sovereign green bonds both in Europe (having already advised Germany, France, Belgium, the Netherlands and Hungary) and globally (Hong Kong, Korea, Egypt, Chile).
This also highlights the importance of Italy in Groupe Crédit Agricole's strategy and the very close institutional links between Crédit Agricole and Italy.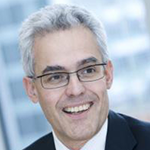 "We are extremely proud to have been chosen by the Republic of Italy to advise them on setting up their Green Bond Framework and structure their first Green Bond, a clear recognition of our expertise in the sustainability bond market and the tight relationship with the Ministry of Economy. It will position Italy at the forefront of the development of the sovereign sustainability bond market, while highlighting its leading role in the fight against climate change and the protection of environment."
Pierre Blandin, Head of DCM Sovereign Supranationals Agencies