11th Annual Industrial, Infrastructure and Power Credit Conference
A combination of issuer/investor meetings and expert panel discussions; the 11th edition of our Industrial, Infrastructure & Power Credit Conference was a smashing success!

Our Industrial, Infrastructure & Power Credit Conference has been a growing success for over a decade. This year's 3rd virtual edition, hosted on 23rd June, was yet another success, with issuers and investors connecting live from all over the world.
The strong line up drew 16 significant issuers in the credit markets representing the top industrial, power and infrastructure sectors, over 300 participants, key credit investors, and top experts gave 2 lively market panel discussions. For investors, this is a valued opportunity to meet all the major issuers from those sectors in a single day. Overall, it is a unique opportunity for our clients to share views in dynamic times. 
This year's conference was again particularly timely, just few months after the start of the Ukraine crisis and in the current context of the inflation shock and the tightening of monetary policies. Overall, it helped assess how investors and corporates adapt and position themselves to the current market environment amid growing stagflation risk. 
To discuss these topic our fixed income analysts, Harpreet Parhar, Head of Credit Strategy, Nicolas Hue de la Colombe, Industrials analyst and Valentina Sanna, ESG analyst, moderated two panels with leading experts: 
'Geopolitics, monetary cycle: the after effects on credit market', discussed the present and future impact of the geopolitical situation and the tightening of the monetary cycle on the economy and credit markets, with an economist, an investor, a geopolitical analyst and our expert in capital structure solutions.
'Greenflation: myth or reality?' amid an acceleration of the energy transition process, this panel aimed to assess the different drivers (regulation, supply demand imbalance, investments, technology) of greenflation in the medium-term and to quantify it, while discussing the potential responses from governments and central banks to this growing theme.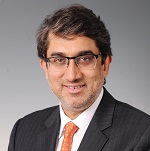 "This conference is a key event for our debt capital markets franchise. It provides our key issuer clients the opportunity to meet with the most important investors in an efficient format. We are delighted to have had the active participation of some of the most significant issuers and investors in the credit markets. We are committed to maintaining leadership in debt capital markets and providing this platform to our clients, an integral part of our value proposition as a leading bank." Atul Sodhi, Global Head of Debt Capital Markets