International Wealth Management : a comprehensive offer serving clients
Crédit Agricole CIB provides Wealth Management 's services throught the unified brand Indosuez Wealth Management.
Shaped by 140 years of experience helping families and entrepreneurs around the globe, Indosuez Wealth Management is renowned for its international reach combined with a human scale : its international network provide its clients with access to local expertise, inside decentralised decision-making centres.
Signature expertise in wealth management  
Today, Indosuez Wealth Management has 29 offices in 14 countries serving high-net-worth and ultra-high-net-worth clients worldwide and manages client assets totalling €109 billion (at 30.06.16). 
The bank's core offering is organised around three divisions: 
- 'Structuring Wealth', which helps families and entrepreneurs develop efficient wealth structures covering private and professional assets and liabilities (this division now includes a global corporate finance offering); 
- 'Investing Wealth', for best-in-class, tailored investment solutions, in all asset classes, with high value-added services; 
- 'Banking and Beyond', which covers precision banking, lending, privileged access to our network and opportunities to meet and discuss with experts through our events. 
A clear investment process backed by a responsible commitment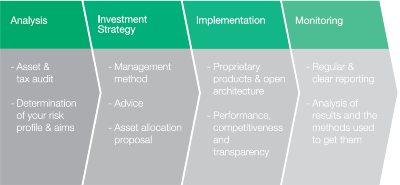 Strong international network
Indosuez Wealth Management embodies an exceptionally rich heritage, based on long-term relationships, financial expertise and a long-standing international financial network.
 
Its long-established network provides its clients with access to local expertise.
 
Its structure relies on decentralised decision-making centres with close ties to its clients.
 
Renowned for its international reach combined with a human scale, Indosuez Wealth Management has 2,700 employees in 14 countries around the world, in Europe (France, Belgium, Spain, Italy, Luxembourg, Monaco and Switzerland), Asia-Pacific (Hong Kong, Singapore and New Caledonia), the Middle East (Abu Dhabi, Dubai and Lebanon) and the Americas (Brazil, Uruguay and Miami).