Debt optimisation and distribution
Debt Optimisation and Distribution business line, covering corporates and financial institutions, is dedicated to the origination, structuring and arrangement of syndicated and bilateral medium-term and long-term loans. It is also in charge of underwriting and of primary and secondary distribution of syndicated loans to banks and non-bank institutional investors.
A new model 
In 2012, Crédit Agricole CIB set up a new model in order to adapt to the economic context. With this model, Crédit Agricole CIB maintains its worldwide expertise in corporate and structured finance:
leadership in aircraft and infrastructure financing,
1st bookrunner in syndicated loans, EMEA (Europe, the Middle East and Africa) (1st half 2012, Thomson Reuters),
and its origination capacity while reducing the size of its balance sheet by distributing the assets linked to these financings.
This model fosters cooperation between the business lines and:
identifies, from origination, potential distribution channels,
increases the rotation of assets in the balance sheet by developing their distribution in an adapted range of product offers (bonds, partnerships with institutional investors, secondary sales, etc.).
To this end, Crédit Agricole CIB draws on the expertise of its loan syndication teams, as well as bond-related capital market activities and loan structuring.
Collaboration across all business lines
The Debt Optimisation and Distribution team is in constant contact with the other business lines: fixed income markets, structured finance, investment banking, commercial banking and trade.
This collaboration makes it possible to:
better understand investor expectations from the origination stage,
expand distribution of other asset classes to new investors,
share expertise for repackaging operations,
foster partnerships for co-financing loans to companies or loans originated by the structured finance business line,
optimise the Bank's credit portfolio and the use of scarce resources (weighted assets, liquidity consumed).
Three business divisions
To effectively perform its duties, Debt Optimisation and Distribution is organised into three divisions:
"Origination and Structuring": in charge of originating and structuring credits (syndicated, bilateral medium-term loans and bridges) arranged on behalf of corporates and financial institutions.
"Distribution": in charge of advisory and interpreting investor needs at origination. This division is also responsible for loan distribution on primary and secondary markets, for developing and setting up partnerships so as to grow the investor base.
"Secondary Loan Optimisation and Trading" is in charge of managing the Bank's assets to be sold on the secondary market in collaboration with Credit Portfolio Management and the Bank's other financing business lines. The division is also in charge of selecting the assets in the repackaging of credits for capital markets. It is also responsible for loan placement in the Crédit Agricole group.
Debt Optimisation and Distribution also includes a Rating Advisory team servicing all business lines (debt capital markets, equity capital markets, mergers and acquisitions, structured finance, debt optimisation and distribution - origination) to provide advice in "capital structure" and "rating" in transforming operations and / or bond issues on capital markets (debt and equity).
The first partnerships 
In January 2013 Crédit Agricole CIB and Allianz France set up a real estate financing for ICADE, one of the most important property services companies listed on the Paris Stock Exchange.
In October 2012 Crédit Agricole CIB and AXA signed their first co-financing agreement for Neopost as part of cooperative efforts between the Group and AXA.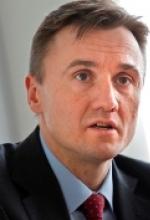 "Our team's primary focus at Crédit Agricole CIB is syndicated loan origination. Like distribution and portfolio management, origination is one of our team's specialities. From origination, we identify the potential distribution channels for our clients, looking specifically at capital markets. We have a complete overview of all the Bank's loan books and increase the balance sheet's asset rotation via distribution that is adapted to investor needs."

Jamie Mabilat, Head of Debt Optimisation and Distribution