Argentina
Crédit Agricole CIB is present in Argentina through a representative office supported by specialised teams around the world, notably in New York, London and Paris.

Crédit Agricole CIB provides a broad range of products in corporate and investment banking to its clients, including large Argentine corporations in the energy, commodities and metals & mining sectors, as well as global relationships of the bank (multinational corporations or MNC).
Crédit Agricole CIB's strengths
The focus of Crédit Agricole CIB in Argentina has been on the provision of world class value added corporate and investment banking solutions, mainly mergers and acquisition, asset management, acquisition financing, structured finance and fixed income markets. Crédit Agricole CIB's main strengths in Argentina are its experienced team of bankers and the locally recognised worldwide production and distribution platform.
History and organisation
Crédit Agricole CIB's presence for already 60 years in Argentina is proof of its commitment to its clients. These are all export-oriented companies both local subsidiaries of Crédit Agricole CIB's MNC clients but also Argentine groups whose presence has been growing  within and outside of Argentina.
Crédit Agricole CIB's products and services are introduced by Crédit Agricole CIB in Argentina with the assistance of offshore sales, trading and booking units through Crédit Agricole CIB's extensive international network of branches, affiliates and subsidiaries.
Subject to regulatory constraints, Crédit Agricole CIB in Argentina can deliver a wide range of solutions such as syndicated loans, debt offerings, corporate finance, liability management, strategic advisory, acquisition financings, project financings, multilateral lending and structured financing.
International business solutions
Located in Brazil, the Crédit Agricole Group International Business Solutions "Latin America" assists Crédit Agricole's mid-cap corporate customers with their international operations, by providing expertise on the local environment as well as by securing access to a wide spectrum of banking services abroad.
Contact:
Crédit Agricole Group International Business Solutions in Latin America
Alemada IUT, 852
16 Andar, Cerqueira Cesar,
CEP 01421-001, SAO PAULO
Click here for more information
Contacts
Sebastian Gurmendi, Chief Representative Officer
Cristina Barral, Office Manager
For further information, please contact: Communications-Americas@ca-cib.com
CRÉDIT AGRICOLE CIB - ARGENTINA
Crédit Agricole CIB - Buenos Aires
Torre Alem Plaza
Avda. Leandro N. Alem 855 - piso 24
1001, BUENOS AIRES
Our presence in this country
» Crédit Agricole CIB - Buenos Aires
Representación Permanente

Edificio Laminar Plaza
Ing. Butty 240- piso 18°
C1001AFB Ciudad Autónoma de Buenos Aires
Argentina

T : + 54 11 3986 2700
The word of the Chief Representative Officer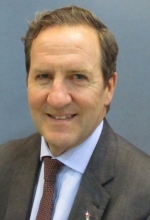 "Our increasing leadership over the last 10 years in the Argentine loan syndication market and among financial institutions has given Crédit Agricole CIB substantial visibility within the country and in Latin America. Our team has led some of the most significant financial transactions in Argentina and is committed to providing high value services to its clients"

Sebastian Gurmendi, Chief Representative Officer
Key figures
1 location since 1954