Pierre-Alexandre Germont, V.I.E. in New York in the FIG (Financial Institutions Group) Department
Pierre-Alexandre Germont, 25 y.o, is in New York as FO Analyst Assistant in the FIG Department for major financial institutions. He tells us about his life abroad and his expectations for the future.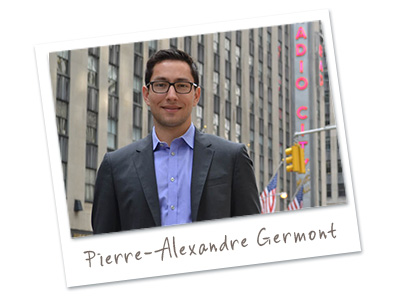 Tell us about your background
After receiving a Scientific Baccalauréat, I attended the Lycée Ampere preparatory school in Lyon for two years. Then I attended the AudenciaNantes School of Management where I specialized in Finance. I also studied for four months at Laval University in Quebec City where I had lessons in Finance and Strategy.
Before this particular VIE assignment, I had two internships at Crédit Agricole CIB, both in Paris.
The first one lasted one year: I was a Risk Corporate Credit Analyst Assistant on large firms from the Middle East and South Africa. I was in charge of the risk analysis of the clients' strategy, operating markets, operating countries, financials and business plans.
The second one lasted six months: I was a Commercial Banker Assistant on major French firms from the energy and defense sectors.
I work as an Analyst Assistant in the FIG (Financial Institutions Group) department in New York. I assist four Senior Bankers who cover 5 areas: American banks, Brazilian banks, Canadian banks, Mexican banks, and American insurance groups.
And about your experience abroad ? 
It's indeed my second long-term experience abroad after the 4-month exchange program that I had in Quebec City from September to December 2012.
Quebec was a great experience since I met students from all over the world, and I discovered a different culture. It also enabled me to improve my spoken English since I had classes in English and I spoke with other foreign students in what turned out to be our common language, English.
Why did you choose New York City ?
I chose New York City for both the position and the location. I wanted to work in a coverage department, so this position really matched my expectations. And when I visited New York two years ago, I told myself that it could be great to live here.
Since I was working in the CBT department in Paris, I think it helped me to get this position. I had two interviews with my current colleagues and one interview with an HR person. I can say that it all went smoothly!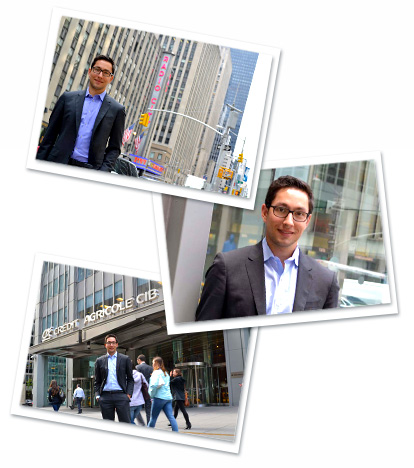 What is a typical day at work like for you ?
When I arrive at the office, the first thing I do is to read my emails and talk with my boss about current deals.
Then I read the news concerning financial markets, and especially banks and insurance groups.
During the day, I prepare pitch books for client meetings and attend certain client meetings. When I prepare these meetings, I analyze the most recent data concerning the client (financials, press release, awards, credit ratings updates, etc.) that I find on different internet sites such as Bloomberg or the client's site.
What have you gained from this experience ? 
I gained a deeper knowledge of the client relationship (knowledge that I started to have with my second internship). I also gained a better global vision of the financial institutions world.
But, beyond this professional gain, I discovered an amazing city: New York. 
I really like the atmosphere of this city: everybody seems to be very enthusiastic and energetic, so the city feels the same.
There's a lot to do, to visit, and people always get extremely involved in the proposed events, such as music or movie festivals, or even original events like Halloween. 
Here in New York City we are about 750 employees at Crédit Agricole CIB. Our building is located in Midtown, very close to Central Park, which from April to October is an ideal location to eat one's lunch.
What are your plans after this placement ?
I don't know yet where I will work after my contract, but I would really like to work in the coverage field.
A message to potential candidates ? 
Crédit Agricole CIB offers great opportunities all around the world, go for it!