Final year internship seals the deal...
Salim Djeghlafi and his tutor , Corinne Blin, met seven months ago. "I want to work in sales" he said. After a successful interview, Salim joined the "Govies" team. Today, he has made his different background one of his strengths. Corinne and Salim form an excellent duo and, at the end of July, he signs his CDD.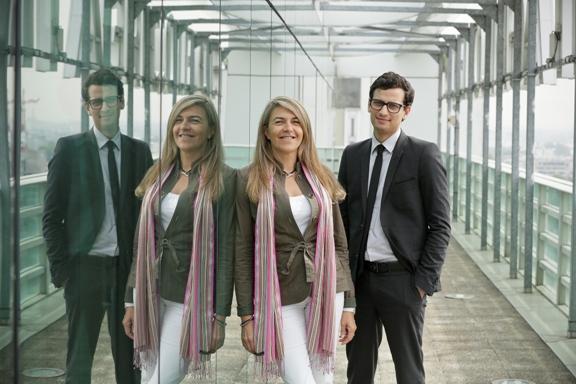 Tell us about your background...
Salim Djeghlafi: I have been working as a "sales assistant" on the trading floor since January 2013. Our team is in charge of fixed-income sales for institutional investors. 
My background is fairly unusual as I did my undergraduate degree and Masters in mathematics, and it was only afterwards that I decided to specialise in finance and take a two-year Masters degree at Audencia (School of Management in Nantes).
Working on the trading floor must be pretty intense ? 

S.D.: Our working days are very busy: a sort of 24-hour round-the-clock race. 
8am: I arrive at my workstation, or "desk" to use the jargon, where I begin by writing a summary of the traders' comments for our clients. Basically, it is an overview of the European and US markets for the previous day.
9am: I compile and send out trading axes: different recommendations or "positions" for buying or selling certain bonds by traders. It has to be sent out first thing so that clients can quickly take a decision. 
10am to 1pm: It's all hands on deck for the team. Over the last 7 months, I have developed new reflexes when it comes to taking client orders. For bond issues, for example, orders have to be in before the books close. Client "chat" sessions bombard one of my 4 screens from every direction: we have to move fast, not let anything slip by, and continue with what we are already doing. But orders are always the priority and always mean a rush in adrenalin.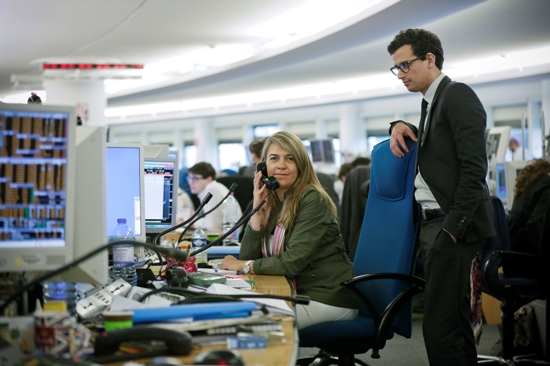 2pm to 6pm: I manage the day-to-day tasks and, at the end of the day, centralise the major flows on the world's different platforms and send out a summary to the internal teams. That is how I would sum up a typical day.
"My working day: a sort of 24-hour round-the-clock race"
What does Salim's work bring to your team ? 
Corinne Blin: Salim has been working on a new application that enables us to compile data from 4 electronic platforms. His work saves time when it comes to calculating the "hit ratios" we use to monitor trader performance. Are they offering the most competitive prices on the market, for example? Salim provides the coherent, reliable and operational reporting we need.
"Salim's work saves time"
Why did you apply to Credit Agricole CIB ? 
S.D.: I took a year out in the middle of my two-year Masters at Audencia to work at the DRF (Direction des Régions de France) in Nantes, also as a sales assistant. It went really well and my profile was flagged by the human resources department. I had all the right reasons and the motivation to get back into the Bank, only at the head office this time.
How do you think Salim is progressing ? 
C.B.: Salim is someone you can count on. I trust him. He also has a calm temperament which is very much appreciated on a trading floor. He is autonomous, and having a trainee who is operational is extremely satisfying. He quickly understood the value of our reporting tools and is a precious help to the team. In fact, we are lucky to be able to offer him a CDDwhich is a fantastic opportunity!
What do you enjoy about being a tutor ? 
C.B.: What I like most is being able to share my experience of the same working environment and give trainees a practical framework for their theoretical studies. 
Because he graduated in mathematics, Salim does not have a "standard" profile, and I like that. I work with trainees or students on internships with different backgrounds, and that takes me off the beaten track.