Jacques Ripoll
Chief Executive Officer ​​​​​​​of Crédit Agricole CIB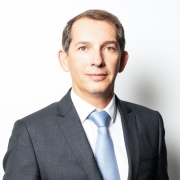 Jacques Ripoll is Chief Executive Officer of Crédit Agricole CIB and Deputy General Manager of Crédit Agricole S.A. in charge of the Large Clients division, formed by the Corporate and Investment bank, Wealth Management (CA.Indosuez Wealth Group) and Services to institutional investors and corporates (CACEIS).
Jacques Ripoll entered Société Générale in 1991 within the Inspection générale, and joined the Equity Derivatives department in 1998. He became Head of European Equity Sales and Trading in 2003, then Head of Société Générale's group strategy between 2006 and 2009. At that date, he entered the Executive Committee, supervising four of the group's businesses: Asset Management, Private Banking, Investors Services and Newedge.
In 2013, Jacques Ripoll joined Banco Santander as Head of Global Corporate Banking for the United Kingdom. In 2015, he was appointed Senior Executive Vice President of Santander Group in charge of Global Corporate Banking worldwide. 
Born in 1966, Jacques Ripoll graduated from Ecole Polytechnique.