With our employees
As a responsible corporate citizen, Crédit Agricole CIB offers support to various non-profit organisations and charities. This commitment is pursued by all the employees within the framework of « Solidaires By Crédit Agricole CIB », the Bank's programme to promote skills-based volunteering.
The Bank also maintains long-standing partnerships with associations in France and abroad, in particular with AFM-Téléthon.
Skilled-based volunteering and collective commitments 
Solidaires by Crédit Agricole CIB
"Solidaires By Crédit Agricole CIB" is a CSR programme, open to all of the employees in France and worldwide.  
Three levels of commitment are available :
• Events and special days. Employees are invited to work together on community-focused projects in support of partner associations. 
• Volunteering. Employees can offer their time and/or skills for a specific purpose. Crédit Agricole group's dedicated website puts interested employees in contact with the associations supported by the Group: https://www.ca-solidaires.fr/en
• Grants for employees' initiatives. The Bank offers financial support for projects organised by non-profit organisations supported by its employees, as part of healthcare solidarity, social inclusion, environmental and educational projects in France and abroad.
In 2014 the program was launched in Asia with 4 projects supported in Singapore, Hong Kong, Taiwan and India. This second edition granted also financial support to 28 projects in France and 4 in the United Kingdom. In addition, 29 other initiatives (individual and team events) in London were carried out for the benefit of charities.
Long-standing partnerships
In France
 
o AFM-Téléthon 
Crédit Agricole CIB has supported the AFM-Telethon for a number of years. The Bank was a key player in the 2012 and 2014 Financial Community Telethon and responsible for the global management of the event, fostering the involvement of all the players in the financial community (notably by rallying the companies of the Crédit Agricole Group), coordinating fund-raising and organising the race.
As an example of its "succeeding together" philosophy, Crédit Agricole CIB provides its employees with an opportunity to commit themselves to a good cause in a simple and effective manner.
o Nos Quartiers ont des Talents
Created in 2006, Nos Quartiers ont des Talents is an association that offers graduates under 30 (minimum fourth year university level) from an underprivileged background or priority neighbourhood equal opportunity to obtain employment by merit through collegial sponsorships.
In the United Kingdom
o Beanstalk  Beanstalk's service is simple yet highly effective. The CACIB members of the organization recruit and support Beanstalk trained reading helpers to provide one-to-one literacy support to children who have fallen behind with their reading.
o St. Hilda's East Community Centre is a vibrant multi-purpose community centre that caters for all sections of the local community of all ages. Crédit Agricole CIB London provides finance to help the centre fund trips and other activities for their elderly members.
o Aziza's Place   Aziza's Place was founded by an employee of Credit Agricole CIB in memory of his daughter. Aziza's Place is a grassroots education and learning centre transforming the lives of Cambodia's most underprivileged children. They come from the Steung Meanchey municipal dumpsite, slums and vulnerable families.  
Aziza's Place is a safe haven within the hustle and bustle that has become Phnom Penh.  The association offers holistic education programmes for children and outreach to their families. With help, they can build positive futures.
 
In the United-States
New York Cares 
New York Cares is New York's largest volunteer management organization, running volunteer programs for 1,300 nonprofits, city agencies, and public schools.
The partnership between Crédit Agricole CIB NY and New York Cares brings employees the opportunity to contribute their assistance to local solidarity initiatives. To know more : https://www.newyorkcares.org/
Societal commitments
Gender equality, diversity and opportunities for disabled jobseekers. Crédit Agricole CIB  is a committed and responsible employer.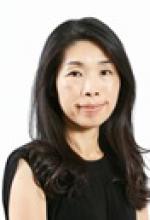 "I help in funding the cost of training for the hearing-impaired children"

Corinne Hung, Children's Hearing Foundation
Solidaires 2014 winner